Illumination design software models LED color mixing
The use of illumination design and analysis software enables verification of the efficacy of color mixing of LEDs prior to product fabrication, saving time and expenditure, say Ryan Williamson and John Koshel.
Dec 14th, 2007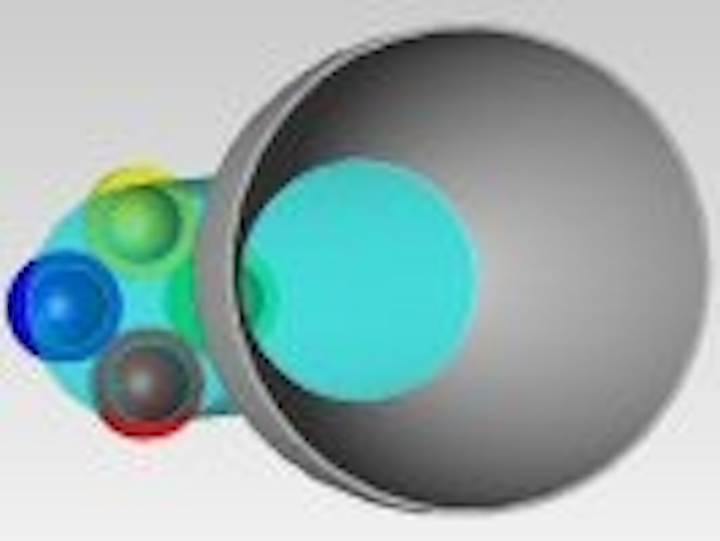 Color mixing of LEDs currently receives a great deal of attention, especially in the architectural lighting sector. Color mixing is the process of adding the spectral emission from several different LEDs, usually red (R), blue (B), green (G) and sometimes amber (A), to get a range of desired colors, including various correlated color temperatures (CCTs) of white. The goal of these systems is not only to maintain one distinct color, but also to allow the user to vary the color as desired.
Optics for color mixing
For white-light illumination, the appropriate output can be achieved by combining the output of discrete color emitters and/or using static white-light LEDs. There are a large number of ways that effective color mixing can be accomplished, including:
• No optics: the LEDs are oriented such that their outputs overlap at the target; with this approach, there is no control of the illuminance distribution at the target.
• Individual optics: employs separate optics for each of the LEDs.
• Group optic: employs a common optic for a group of LEDs.
• Combination optic: employs individual or group optics whose outputs are then coupled into a final common optic.
• Dichroics: technique that employs dichroic filters to improve the mixing into a common optic.
Color-mixing systems can be simulated using optical modeling software. This enables accurate modeling of sources, optical systems, and optical properties such that a realistic color distribution is found. The system can be radically altered, and potential problems can be circumvented.
+++++++
This article was published in the November/December 2007 issue of LEDs Magazine.
To read the full version of this article, please visit our Magazine page, where you can download FREE electronic PDF versions of all issues of LEDs Magazine.
You can also request a print copy of LEDs Magazine (available by paid subscription) and sign up for our free weekly email newsletter.