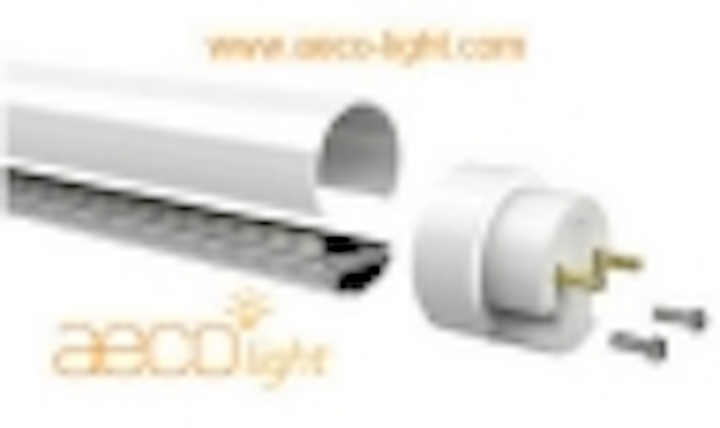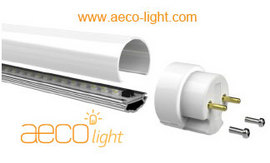 Date Announced: 05 Jul 2012
Latest high-efficiency LED light tube achieves ~100 lm/w and is over 22% brighter than previous generation model.
Seattle – Aeco Light unveiled a new version of their T-Series LED light tube today, keeping the attractive traditional low-profile appearance and 280° beam angle of their previous generation tube, but greatly increasing efficiency and light output with a new LED chip and redesigned external LED driver. Utilizing the new high-efficiency LED chip allowed Aeco Light's engineers to simultaneously reduce the chip count while increasing brightness. Aeco Light T8 LED tubes are highly regarded for their smooth diffused glow and wide beam angle, making it difficult to differentiate from traditional fluorescent tubes without close inspection.
The initial model available from the new T-Series is a 22.5 watt 4-ft. T8 LED tube that delivers 2250 lumens (@ 5000K color temperature) - a full range of new models will be released by the end of the month, including 2-ft. and 8-ft. lengths, with an internal driver version to be launched sometime in August. Pricing for the new model has yet to be announced, but MSRP is expected to be around 15% less than the previous generation.
About Aeco Light:
A division of the Aeco Life Group, Aeco Light is a company focused on providing LED lighting products and services which reduce energy consumption and encourage a "greener" lifestyle without any compromise. Helping us to deliver on this promise is the unique attribute of being both a lighting design company and a lighting manufacturer. With headquarters located in the LED manufacturing hub of Taipei, Taiwan, Aeco Light is a global organization with regional branch offices in Tokyo, Japan and Seattle, Washington.
Contact
Riven M. Peng 2-2325-6681 (Taiwan) 206-227-8442 (USA)
E-mail:info@aeco-life.com
Web Site:www.aeco-light.com