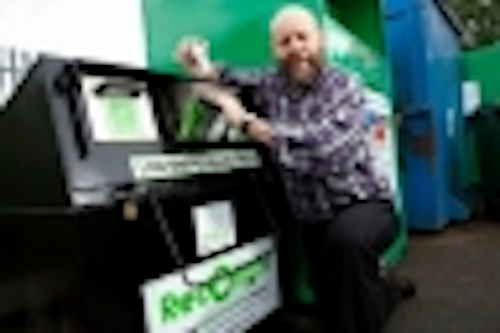 Date Announced: 17 Jul 2012
Today, Councillor Simon Pickering, Stroud District Council's executive member for environment, officially launched a new recycling scheme providing low energy light bulb recycling facilities to the people of Stroud.
Working in partnership with recycling specialist Recolight, Stroud District Council has installed specially designed containers where old low energy light bulbs can be recycled. These have been placed in 9 locations across the across the District – Old Market, Nailsworth; Cainscross recycling site; Stamages Lane car park, Painswick; Thomas Keeble school, Eastcombe; Cheapside car park, Stroud; High Street car park, Stonehouse; Council car park beside Tesco, Cam; Kingshill Parade, Dursley; and Marybrook car park, Berkeley – with a further site to be added soon.
All low energy light bulbs collected will be sent for recycling at approved treatment facilities. Modern low energy light bulbs typically last over six times as long as, and use a quarter of the power of an equivalent incandescent bulb. Most importantly, low energy light bulbs save energy and reduce costs.
Launching the scheme, Councillor Simon Pickering said: "These containers from Recolight will provide a much needed service and supports the council's commitment to continue reducing and recycling waste in the district."
Recolight CEO Nigel Harvey said; "This is an important and exciting partnership which will open up vital new channels for the public to recycle their old low energy light-bulbs. People want to recycle their old bulbs but are often unsure of where the nearest facilities are. These containers will be visible to thousands of consumers every week, and we hope that this will help make a difference to recycling in the local area."
Contact
Anjali Jingree or Magdalen Bush Telephone: 020 7526 3600
E-mail:ajingree@apcoworldwide.com
Web Site:www.recolight.co.uk