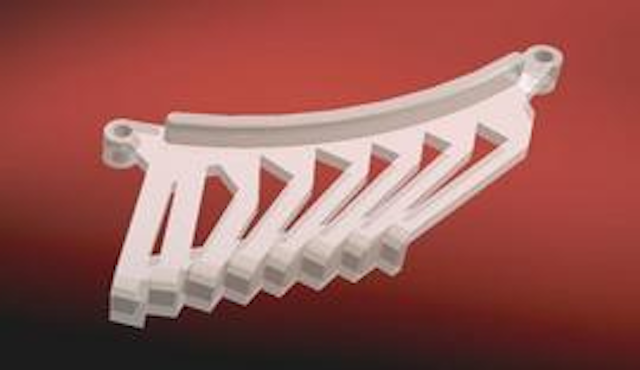 Date Announced: 24 Oct 2012
A new energy saving device from VPhase has benefited from the design expertise of Polymer Optics Ltd. The Wokingham based consultancy has designed an advanced one-piece LED lightguide to transmit light from an array of surface mounted LED's to the front fascia of the VX1 unit.
The design uses a system of strategically placed cut-outs to channel the light to specific areas of the fascia panel. The size and shape of the channels has been optimised to provide even intensity, and to minimise cross-talk. The angle of the reflector surfaces has been carefully considered to give maximum efficiency through the use of total internal reflection. Polymer Optics used their 3D ray-tracing software to analyse the performance of the new lightguide design, and then compare the performance against the original customer's lightguide design. Chris Ferrari, Polymer Optics Sales Director commented, "our optical designers are also very good engineers, and a feature of this design was that the part could be moulded without expensive tooling and assembly costs".
The VX1 is a voltage optimisation device designed for use in homes and small businesses. The unit optimises the incoming voltage to a constant 220V, a level where devices operate more efficiently, giving householders immediate and significant energy savings. A single VX1 fitted to a standard consumer unit.has been shown to cut around 10% from the annual electricity bill.
Contact
Chris Ferrari Commercial Director Polymer Optics Limited 6 Kiln Ride Wokingham Berks. RG40 3JL Tel: +44 (0)1189 893341
E-mail:chris.ferrari@polymer-optics.co.uk
Web Site:www.polymer-optics.co.uk