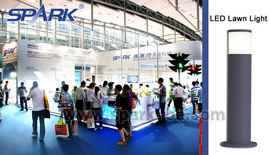 Date Announced: 27 Jun 2012
The Pazhou Complex saw the grand opening of the annual Guangzhou International Lighting Exhibition. Just like before, Spark people attend the fair with their latest products during which the SPC LED lawn light has drawn the most of people's attention.
Bearing the hope of Spark staff and customers, Spark launched its lawn light series after 5 months careful R&D. The lawn light series includes 500mm and 800mm two models, applicable to the lawns in park, villa, pedestrian street, parking lot and square, etc. Graceful, classic while fashionable designs, pure and simple outline, all are indicating the wisdom of Spark people.
On the aspect of practicability, the application of aluminum pole and high transparency PC diffuser ensure the good heat emission, strong anti-corrosion ability, high light utilization rate and soft and even light rays. Moreover, the compact design makes the installation and packaging much more convenient and efficient.
As the representative of new lighting source, LED places an important role of energy saving in SPC LED lawn light series. While with only 5 watt led lighting source, the brightness of SPC LED lawn light is not less than traditional lawn light which has much higher power. As a result its energy saving effect will be much more obvious in large scale application. We believe that the LED lawn light will replace the traditional lawn light completely and appear in every corner of the world in the near future.
On the Guangzhou International Lighting Fair our SPC lawn light got the approval of all customers. Spark will keep their R&D pace faster and quicker providing more and better choices for you.
Contact
Keziah Song General Manager Tel: (86 755) 8390 4366 Fax: (86 755) 8390 4766
E-mail:sales@spark-oe.com
Web Site:www.spark-oe.com