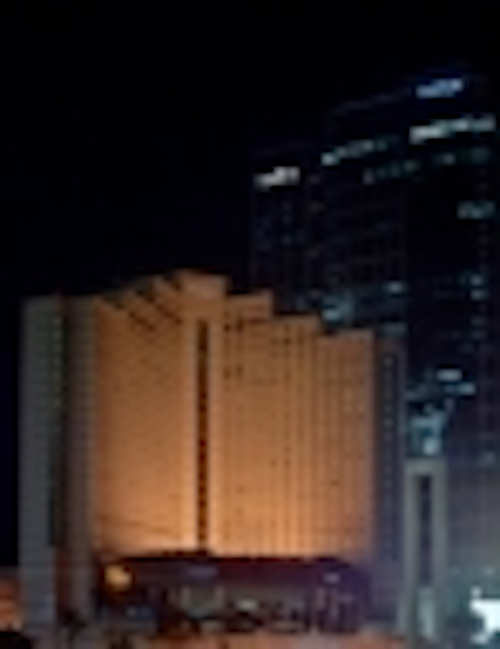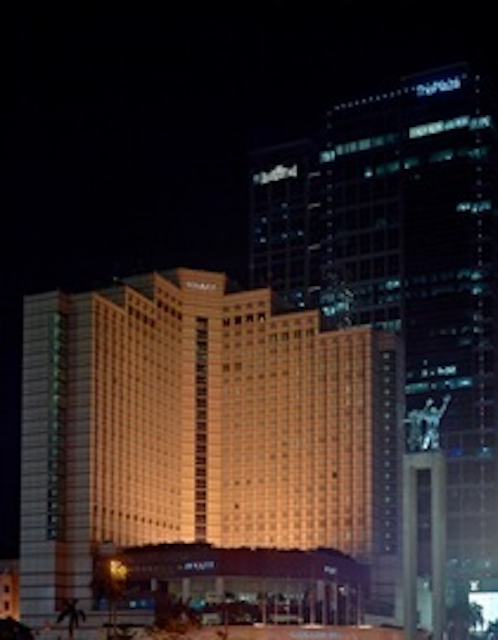 Date Announced: 07 Sep 2012
Plaza Indonesia, a well-known landmark in the heart of Jakarta city, has upgraded its lighting systems and replaced existing lights with the latest energy-efficient solutions from GE Lighting. The integrated development stands tall with its design-forward architecture and articulated spirit of energy conservation. Plaza Indonesia comprises four buildings namely: "The Plaza Office Tower", "Plaza Indonesia Shopping Center", "Grand Hyatt Hotel Jakarta" and "Keraton at the Plaza Private Residences and Luxury Collection Hotel".
Under a total solution by GE Lighting, about 25,000 light points for both exterior and interior environments were replaced with new energy-efficient lights. The specified products include: LED PAR30, LED PAR38, LED GU10, T5 Starcoat and Tetra miniMAX, PowerWhite and PowerMAX, Contour and Linear Wall Wash system.
Mr. Hari Njotowidjojo, Sales Project Leader of GE Lighting Indonesia, commented: "GE has a comprehensive range of lighting products to meet the individual requirements for specific environments. Upon discussing with the Plaza Indonesia team and truly understanding their business operations and lighting requirements, we proposed and successfully implemented a total solution that met both the client's requirement for good quality lighting in respective environments as well as significant savings in terms of energy usage and ongoing maintenance costs."
Mr. Herman Bunjamin, Property Director of Plaza Indonesia, added: "We chose GE Lighting because it provides the best quality of light compared to other brands. Not only that, the GE team offered us a convenient one-stop solution that took into consideration the unique and different requirements for the respective spaces within our integrated development. From the exteriors of this landmark to the interiors of the offices, shopping center, and luxurious rooms at our hotels and residences, the new GE lights have given an added sparkle to the development. We look forward to working with GE again on our future lighting needs."
Appropriate Illumination for the Interiors of an Integrated Development:
As a symbol of luxury in Jakarta, Plaza Indonesia still forwards the spirit of saving energy. In order to help them achieve the goal of saving energy consumption, GE lighting provided energy-efficient solutions for all four buildings throughout Plaza Indonesia.
In The Plaza Office tower, the existing lights were replaced with GE's T5 Lighting System, which will generate energy savings of 30-40% compared to the regular conventional TL T8 systems. GE's Starcoat T5 with fixtures is ideal for office areas. The elegant, slim Starcoat T5 fluorescent lamps are environmentally friendly with only 3mg of mercury and offer a high energy efficiency of up to 104 lumens per watt. Besides, the extra-long life of 36,000 hours contributes to greatly reduced maintenance and replacement costs.
For the respective interior environments of the shopping center, residences and hotels, previously, Plaza Indonesia used a combination of the 50W halogen lamps as well as the 35W and 70W metal halide lamps. Now, Plaza Indonesia replaced them with GE's specified products of LED GU10, LED PAR30 and LED PAR38, which can achieve a very significant energy saving up to 94%.
The LED GU10 is GE's LED small spot lamp and has a long life 25000 hours at 70% lumens maintenance. It offers substantial opportunities to reduce energy consumption and maintenance costs especially for hotel, restaurant and commercial lighting applications. The LED PAR30 and LED PAR38 both have a long life span of approximately 25,000 hours, and can reduce energy consumption up to 80%, which are very suitable for long hours lighting applications in hotel, mall and supermarket areas.
Lighting the Exterior of a Landmark
GE's new signage lights have added a new brilliance to the exteriors of Plaza Indonesia, in particular for "The Plaza" Office Tower and "Keraton at the Plaza Private Residences and Luxury Collection Hotel". The use of the Tetra PowerWhite LED Outdoor Signage and GE Tetra Contour LED Series is a more energy-efficient solution compared to the previous T8 and Cold Cathode lights used.
The Tetra PowerWhite (white for The Plaza) and PowerMAX (warm white for Keraton) system provides for miniature channel letter lighting for logo letters and are also ideal for cove lighting, accent or border lighting for commercial buildings. The OptiLens maximizes the area of light coverage to produce outstanding uniformity. It comes with easy mounting and an over-molded design which protects the components from moisture. Users have a choice of a full range of colors including white, warm white, red, blue and green.
Reaping Returns and Reducing Environmental Impact
With GE Lighting's new lighting solution, Plaza Indonesia will enjoy estimated savings of US$373,000 per annum on an operating level in terms of energy and maintenance costs. This translates to a payback period of just one year. From an environmental protection perspective, the energy savings is equivalent to eliminating 5,744,200 lbs of carbon dioxide car emissions per year, or creating 712 acres of new trees.
GE Lighting invents with the vigor of its founder Thomas Edison to develop energy-efficient solutions that change the way people light their world in commercial, industrial, municipal and residential settings. The business employs over 17,000 people in more than 100 countries, and sells products under the Reveal and Energy Smart consumer brands, and Evolve, GTx, Immersion, Infusion, Lumination and Tetra commercial brands, all trademarks of GE. General Electric (NYSE: GE) works on things that matter to build a world that works better.
For more information, visit www.gelighting.com.
Contact
Dai Bin Brand & Media Coordinator DID:8621 – 3877 3569
E-mail:bin.dai3@ge.com
Web Site:www.gelighting.com