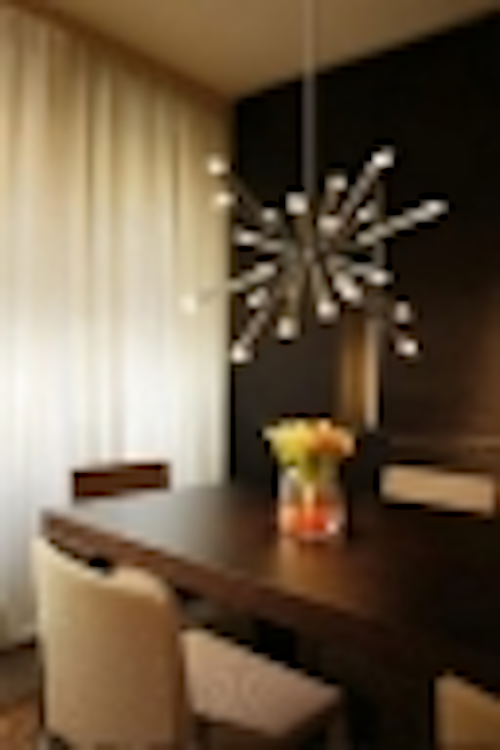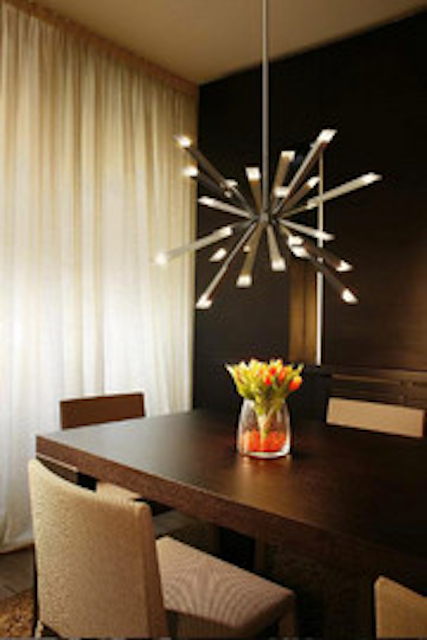 Date Announced: 18 Feb 2014
Starburst LED chandelier's laser-cut light guides take LED decorative fixtures in a beautiful new direction.
One of the innovative designs from BlackJack Lighting's 2014 collection, the dramatic Starburst LED chandelier by Stephen Blackman remains true to the company's quest to define and design the next generation of decorative lighting.
BlackJack's new Starburst chandelier fits into a variety of applications once dominated by incandescent chandeliers, yet this high-tech interpretation breaks new ground with its innovative use of optical light guides that optimize LED illumination.
Located at the tip of the fixture's arms, the faceted optical acrylic light guides are laser cut to a sharp, flat edge and coated with a special frosting. Light from tiny LEDs shines into and through the light guides and bounces off of the special coating, sending bright light in a wide, even spread. When the light is turned off, the light guides become diamond-like elements on angular Polished Nickel arms.
STARBURST FEATURES: Triac dimmable * LED pc boards within each arm are easily replaced in the field * Polished Nickel finish * Available in two sizes: 18 inches and 23 inches.
ABOUT BLACKJACK LIGHTING
BlackJack Lighting is a Chicago-based company offering exclusive, next-generation energy efficient lighting by award-winning designer Stephen Blackman.
Contact
Stephen Blackman - Blackjack Lighting
E-mail:sb@blackjacklighting.com
Web Site:www.blackjacklighting.com