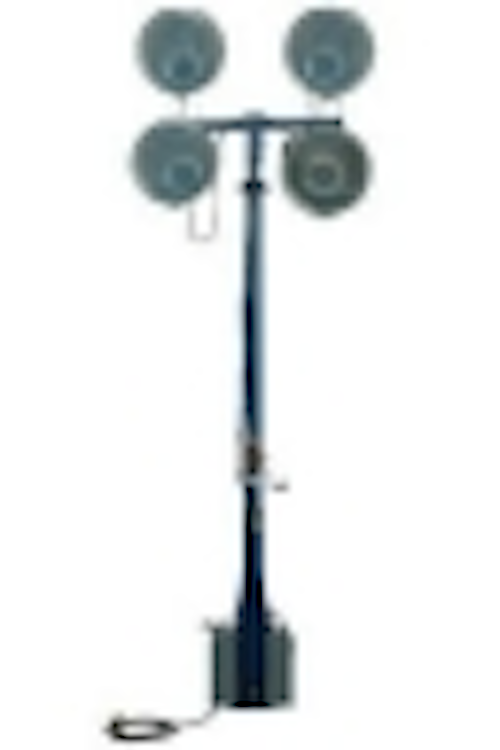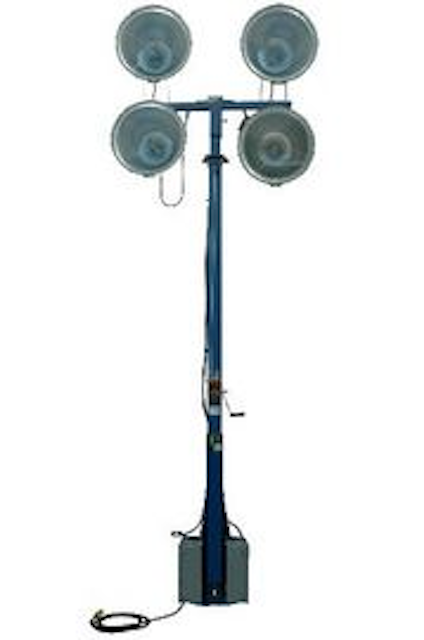 Date Announced: 06 Feb 2014
New 6000 Watt Extendable Light Mast revealed by Larson Electronics
Serving the utilities, industrial and commercial business communities for over 40 years, leading manufacturer and distributor of high grade light equipment Larson Electronics has released a new 6000 watt extendable light mast. This mast is equipped with four 1,500 watt metal halide lamps that produce 600,000 lumens of light combined.
The LM-16-FM-4X1500W Light Tower from Larson Electronics is a 16 foot extendable light tower equipped with a manual crank up winch and four metal halide light fixtures that produce approximately 150,000 lumens each. The four 1,500 watt metal halide lamps produce a wide spread of intense white light, allowing this unit to effectively cover large work areas with high quality illumination. These lamps have 19" reflectors and are constructed of aluminum with a clear tempered glass lens which is secured into place with a heavy duty gasket and single ring lock. These floodlights produce a wide flood light pattern capable of illuminating approximately 6 acres. Each floodlight is securely fastened to the light boom and each lamp includes a support bracket to help maintain lamp stability within its housing.
This two section light boom can be extended to 16 feet for maximum area coverage and collapsed to 9 feet. The tower is constructed of square steel tubing. The mast is extended to its full height using an included 1,000 pound rated manual hand winch. These light masts are typically mounted to trailers or other stable surfaces via a 15 inch by 13 inch, ½ inch thick mounting base plate which has been predrilled to accept six ¾ inch anchor bolts. A 24 inch wide and ¼ inch thick mounting plate is attached to the upper section of the mast which provides a strong and stable platform for the metal halide fixtures. This light tower can withstand winds up to 125 mph when lowered to 9.6 feet.
"This 6000 watt extendable light mast provides an exceptionally bright lighting solution for operators in open areas," said Rob Bresnahan with Larsonelectronics.com. "These light masts are the perfect solution for construction sites, event lighting, highway projects, emergency services and industrial plants."
Larson Electronics carries a wide selection of portable work lights, explosion proof lights for hazardous locations, portable power distributions and light masts. You can view Larson Electronics' entire inventory of lighting products at Larsonelectronics.com. You can also call 1-800-369-6671 to learn more about all of Larson Electronics' lighting products or call 1-903-498-3363.
Contact
Larson Electronics +1-800-369-6671
E-mail:sales@larsonelectronics.com
Web Site:www.Larsonelectronics.com