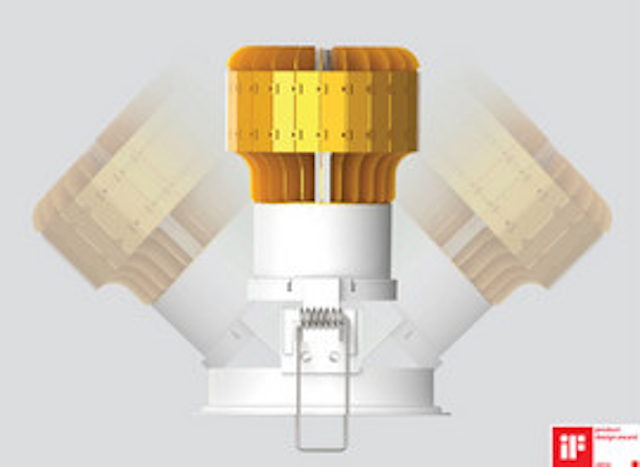 Date Announced: 25 Feb 2014
The ELR Vasari wins an iF product design award
International Lighting Manufacturer ELR, has been awarded for the prestigious iF product design award for the Vasari LED Module.
For 60 years, the iF product design award has been an internationally recognised label for award-winning design and the iF brand has become a symbol for outstanding achievements in design.
The Vasari was chosen for this great honour from among 3,249 entries from 55 countries. "We are delighted that the Vasari has been acknowledged for this esteemed award, this is the first iF design award ELR has now received, proving how hard our design team work to create the most innovative products in the LED lighting market." Said Stanley Ong, (CEO) of ELR
This deep recessed LED module offers a glare free experience without compromising performance. The fixed or gimbal mounting mechanism is designed to be fitted after installation, and can be painted for that personal touch.
"The Vasari is one of the most interesting products we have seen, its distinctive design and versatile features and functionality have received extremely positive feedback from our customers. We are proud to be the exclusive distributor for ELR in the UK and Dubai, and it's great to see their products are receiving the recognition they deserve." James Nelson, Managing Director, GreenLux Lighting
The official presentation ceremony for the 2014 iF product design awards will take place on 28 February 2014 in Munich during the 'Munich Creative Business Week'. All the winning products will be on display for the first time at the new iF design exhibition in Hamburg's HafenCity.
Contact
GreenLux Lighting +44-(0)-845-371-0877
E-mail:info@greenluxlighting.com
Web Site:www.greenluxlighting.com