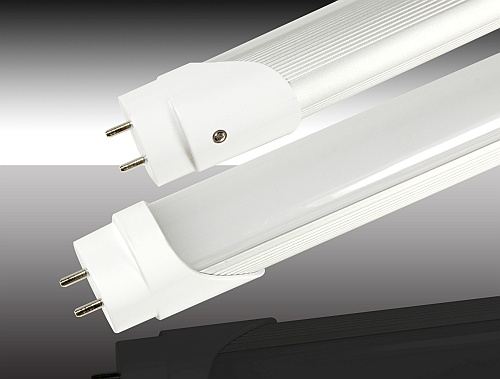 West Caldwell, New Jersey -- MaxLite®, a leading manufacturer of energy-efficient lighting products, introduces the new DesignLights Consortium® (DLC)-qualified LED T8 Linear Lamp with an internal driver to allow for quick and easy replacement of 32-watt four-foot T8 or T12 fluorescent linear tubes in standard troffers.

"Our latest LED T8 Linear Lamp delivers superior performance and efficacies exceeding 100 lumens per watt," said Product Marketing Manager Alex Truong.

Offering 2.5 times the lifetime of a traditional fluorescent tube, LED T8 Linear Lamp provides significant ongoing operational savings due to decreased maintenance and lower energy consumption compared to the linear fluorescents on the market today. Additionally, unlike fluorescent linear tubes that buzz and flicker, the new LED retrofit lamp is constructed with LM80-rated LEDs that enable silent operation. The lamps are offered in correlated color temperatures (CCT) of 3500K, 4100K and 5000K, with outputs of up to 1,900 lumens.

The 18-watt LED lamp features standard G13 pins that fit into most common fluorescent fixtures with non-shunted sockets easily and conveniently. After a simple ballast bypass, installers can quickly and easily install the lamp into the existing recessed troffer.

The back of the lamp's housing contains an aluminum heat sink designed to promote the transfer of heat from the LED chips, which ensures cool operating temperatures and extended lumen maintenance. The lamp also features a frosted acrylic diffuser that ensures high-quality light output and an 85 color rendering index (CRI), while minimizing breakage compared to glass tubes. The mercury-free lamp operates on electrical systems ranging from 120- to 277-volts.

The DLC-qualified LED T8 Linear Lamp is suitable for installation in a variety of commercial and institutional applications, including offices, lobbies, hallways, showrooms and conference rooms in schools, municipalities, libraries, airports, convention centers, healthcare facilities, corporate campuses, convenience stores, banks, retailers and hospitality environments. The retrofit lamp can be purchased with rebates of up to $30, available through select utilities nationwide.

MaxLite also offers an LED T8 Linear Lamp with an external driver.

View the product page at http://www.maxlite.com/products/led-linear-t8-internal-driver.

About MaxLite
MaxLite has been committed to providing energy-efficient lighting products for the last 20-plus years, and was one of the first movers into LED technology in the industry. An ENERGY STAR® Partner of the Year, MaxLite established the MaxLED® brand, an extensive line of state-of-the-art indoor and outdoor lighting lamps and luminaires. Through MaxLite's innovative research and development capabilities in its California office and product assembly center in New Jersey, MaxLite continues to be at the forefront of energy-efficient technologies.

Contact:

MaxLite
+1-800-555-5629

E-mail:

Web site: