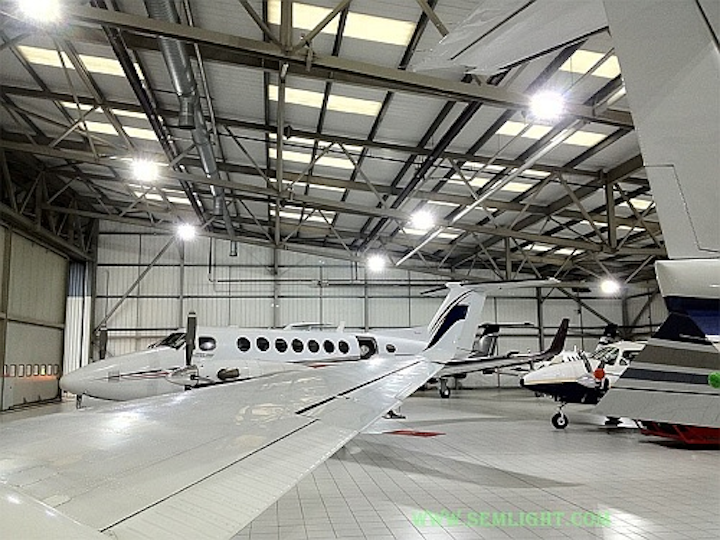 Semlight's LED high bay light is a kind of industrial light using an LED chip as the light source, mainly used for indoor high ceiling applications, such as large factory, workshop, warehouse, supermarket environments etc.

Semlight New LED high bay is integrated with high power LED with high luminous efficacy which is 110LM/W, 120LM/W, and 130LM/W. When it comes to the light body, you can see the combination of electrical box, radiator and lampshade with high quality and advanced technology. Low light decay and long service life. All of them have been certified by CE, FCC, IEC and RoHS.

As one of our main products, Semlight LED high bay light enjoys good reputation from customers for its excellent luminous effect and long life span.

From its appearance, we can see that it is composed with four main components -- driver, radiator, lampshade, and LED cob chip.

There is a cable linked with the driver, which is 1-2 meters long. We use rubber for its cover and copper for wire to ensure its excellent performance of insulation and durability. At the place where the cable is connected to the driver, a rubber ring is used for the sake of protecting the cable from water and from being damaged. As for the driver inside the rectangle aluminum electrical box, we use a famous driver brand in America -- Meanwell. After years of research, here we adopt a technology superior to other companies', which is to install an aluminum board inside the driver so as to enhance the heat dissipation of high bay light.

Under the driver we have two types of heat sinks, conventional heat sink and fins. Fins are used in lights over 150 wattage because it has better dissipation effect. We also have two color for heat sink, silver white and black. We would recommend black one for it has superior dissipation capacity. We adopt a special technology inside this tube -- liquid cooling. It can cool down the led chip and prolong its life span.

Now let's move to the lampshade. PC lampshade and aluminum alloy lampshade can be chose according to your preference. For PC lampshade, 45 degree beam angle is available. And for aluminum alloy one, we have beam angle at 45, 90, and 120 degree.

The last part, LED cob chip of high bay light, is installed inside of the lampshade. We glue thermal grease on the back of the led chip to ensure the dissipation. And the transparent cover and the rubber gasket here can protect the chip from water and dust.

We provide 30w-200w of LED high bay light. Moreover, we can make different customized colors and watts of the led high bay light based on the requirements. For more information about the detailed parameter, you can contact our customer service.

Semlight is a market-leading innovator of LED safety lighting products, electronic thermal material and a provider of ultra-high-power lighting solution.

Contact:

Jimmy Wu, General manager - Semlight
+86-755-28282235

E-mail:

Web site: