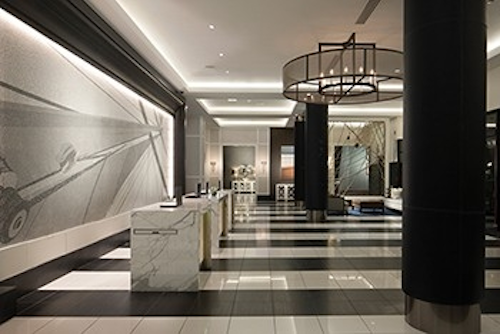 CITY OF INDUSTRY, CA -- Littman Brands Contract announces an established global contract and hospitality division offering one lighting resource that encompasses their three leading decorative lighting brands. This integrated (project sales, service and support) division provides a seamless and easy way for designers, architects and product procurement managers to specify lighting solutions for commercial, hotel, resort and multi-unit projects by offering the latest in lighting fashion and design across Hudson Valley Lighting®, Troy Lighting and Corbett Lighting. While each brand has its own distinct style and aesthetic, they all reflect high quality, handcrafted, energy efficient, state-of-the-art light sources to meet the needs of virtually any hospitality project or specification.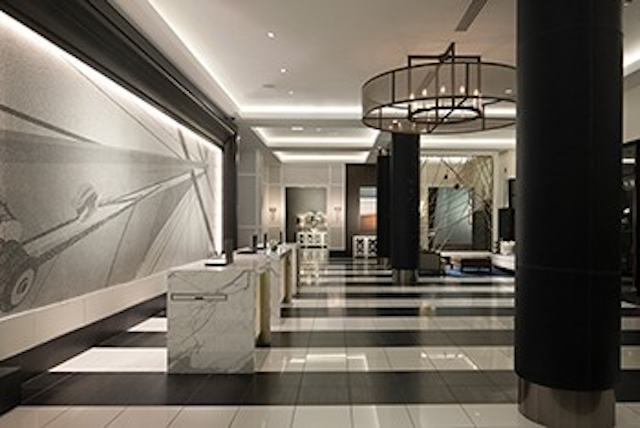 Littman Brands integrates custom hospitality lighting contract division

"Troy Lighting's contract division is well known in the hospitality industry as we have provided lighting for a multitude of high profile projects including five-star hotels and restaurants and other commercial installations," said Jeff Wierzba, vice president of Troy-CSL Contract. "However, by forming the new Littman Brands Contract global division, designers and specifiers have access to a wide variety of options across all of our brands and they can look to one team as the point of contact. With such a vast selection of product and variability, our experts can recommend the perfect solution for any project and specification. In addition to original customization projects through our Troy custom division, any product within Littman Brands Contract (including those from Troy Lighting, Corbett Lighting and Hudson Valley Lighting), can be modified to meet a client's particular design aesthetic, theme and budgetary need."

Photo: Loews Annapolis Hotel in Annapolis, MD
Designed by RTKL Associates Inc., Miami, FL

In addition to a variety of looks and styles cross all brands, Littman Brands Contract's creative insights, quality and attention to detail is unmatched in the industry. The majority of Littman Brands Contract's custom pieces are manufactured at Littman Brand's 200,000-square-foot manufacturing building in Southern California, with an additional 100,000-square-foot facility in Upstate New York. In addition, Littman Brands also owns two manufacturing sites in Asia that are equipped to execute large scale projects as needed.

Below please find more information about each specific brand under Littman Brands Contract:

Hudson Valley Lighting®, a producer of high-grade interior lighting since 1995, prides itself on close attention to detail, craftsmanship and quality. With designs spanning from elegant vintage to inviting modern, Hudson Valley creates tomorrow's classics today. From the brand's New York-based headquarters, an in-house team creates unique and original fixture designs, spanning in style from historic to artisan, transitional to contemporary. Many of Hudson Valley Lighting's fixtures can already be found in superior quality hotel guest rooms and bathrooms across the country, as many collections offer varied styles and feature at least one ADA-compliant option. Recent projects include: The recently renovated Peninsula Hotel in Paris; The Algonquin Hotel in NYC; The Cosmopolitan Hotel in NYC; Hilton in St. Petersburg, FL; Brandywine Senior Living and Steak 'n Shake restaurants.

Troy Lighting, established in 1968, provides a treasure trove for projects that specify tactile materials such as rope, linen, leather, wood and forged iron. From complete custom designs to modified standard products, the company has developed a formula for making every project a success. Custom lighting fixtures by Troy Lighting's contract hospitality division have been installed in some of the world's most exclusive hotels, resorts, restaurants and multi-family housing communities, including: The San Diego Marriott in La Jolla, CA; The Embassy Suites Mandalay Beach Hotel & Resort in Oxnard, CA; St. Regis Bahia Beach Resort in Puerto Rico; the Commerce Club in Atlanta, GA; P.F. Chang's restaurants and Sagewood Continuing Care Retirement Community in Phoenix, AZ.

Corbett Lighting is celebrated for creating visually striking, handcrafted art pieces. Like jewelry for ceilings and walls, bias cut crystals, hand beading and embossed leathers glitter and gleam across Corbett's array of one-of-a-kind fixtures. Corbett Lighting's contract hospitality division uses only the most stylized and refined materials to reflect the latest trends in fashion, design and lifestyle. Corbett Lighting's products are specified for myriad upscale hospitality properties and contract projects, including: Westin Maui Resort and Spa in Maui, HI; Four Seasons in Austin, TX; Bellagio Hotel in Las Vegas, NV; Hotel Monaco in Denver, CO; Buccament Bay Resort in St Vincent and the Grenadines; Carolina Theatre in Durham, NC and the Dash Boutique in Los Angeles.

To learn more about Littman Brand Contract, including recent high profile Littman Brands Contract projects, please contact Mariakay Chakos at mariakay@drsandassociates.com.
If you are visiting Southern California, we would love to arrange a private factory tour.

About Littman Brands Contract
Littman Brands Contract, the global contract and hospitality division of Littman Brands, promotes the design strengths of subsidiary companies Troy Lighting, Corbett Lighting and Hudson Valley Lighting® -- each of which brings its own aesthetic and custom manufacturing capabilities to the hospitality space. It is a single source for designers, specifiers, and interior architects working on commercial, hotel and resort projects -- providing access to the talents and unlimited resources of all three brands. Under Littman Brands Contract, clients can be assured that qualified project managers, engineering staff and CAD department oversee every detail of the design-build and modification process to ensure the proper design intent is achieved. Littman Brand's 200,000-square-foot manufacturing building in Southern California, 100,000-square-foot facility in Upstate New York and manufacturing sites in Asia are equipped to execute any project.

Contact:

Mariakay Chakos - for Littman Brands Contract

E-mail:

Web site:

www.littmanbrands.com

Submit new products, case studies/projects, and other press releases at http://www.ledsmagazine.com/content/leds/en/addcontent.html and http://www.ledsmagazine.com/content/leds/en/iif/add.html.