Mint Lighting Design and ENTTEC install dynamic lighting for ambience and entertainment at Melbourne Airport
Dec 29th, 2014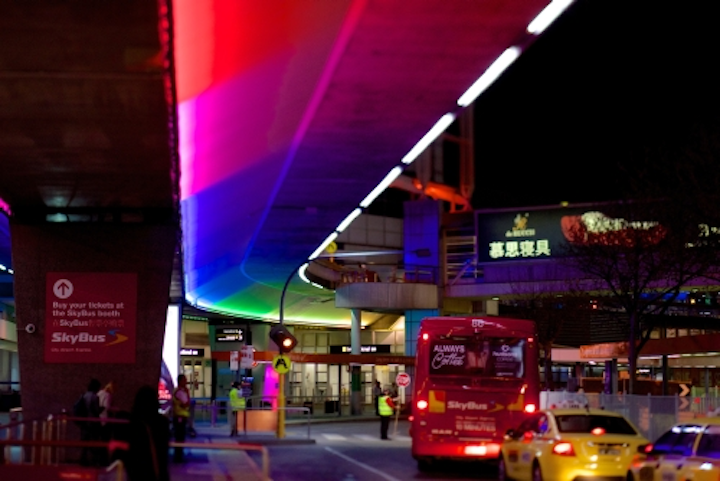 MELBOURNE companies Mint Lighting Design and ENTTEC have transformed the forecourt and main terminal façade at Melbourne Airport with a dynamic lighting installation that provides ambience and entertainment and welcomes travellers to the world's most liveable and friendliest city.

The landmark project covers 12 individual sites programmed as one to create an intricate, synchronised light show that boasts more than 40,000 pixels and 57 universes to control and schedule them.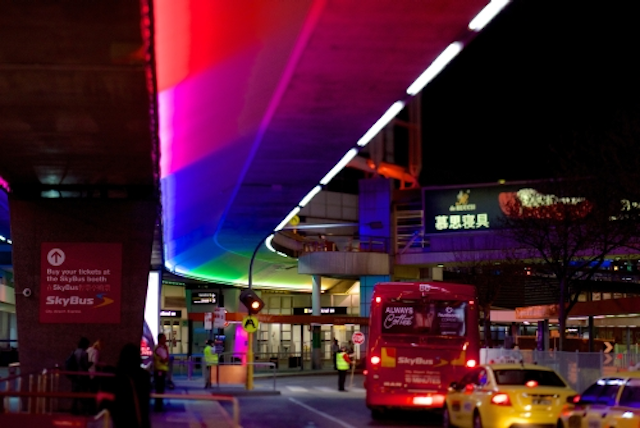 Mint Lighting Design and ENTTEC install dynamic lighting for ambience and entertainment at Melbourne Airport

In total, 2140 individual products were designed and installed.

Key elements include:
• 14m 'Melbourne' sign in the forecourt
• 140m double-sided light projections beneath the elevated roadway
• 60m canopy lighting within pedestrian bridges, plus light in shell canopies and trees
• interactive 'Light Shower' that bathes visitors in blue light, inspired by research into its effects on the circadian rhythm

Specialised programming across the 12 integrated sites has been designed to celebrate important days in the multicultural calendar, including Australia Day, Diwali, Chinese New Year and Christmas.

The installation can be re-programmed to mark other events and significant milestones as required.

Mint Lighting Design Director Adele Locke said white light was banned from the design.

"I had to determine a way to use coloured light that was sophisticated, dynamic and, critically, not overwhelming for weary travellers."

Improving pedestrian navigation was essential.

"Using blue lights over entrance doors and colour-coded light for bus shelters provides travellers with more directional cues. The sequence of colour change also provides staff with a more playful work environment," she said.

The control network required to bring this ambitious project to life comprises five different technologies:
• wired DMX
• Ethernet
• fibre optic
• wireless Ethernet PtP link
• wireless DMX link

ENTTEC founder and General Manager Nicolas Moreau said it is among the most sophisticated ENTTEC has built in its 15 years of worldwide installations.

"The sheer scale of the site, access issues, and the number of control channels needed (over 40,000) meant that we had to use every tool in the box."

The roadside linear site was the largest and most challenging.

"Not only was a significant amount of light needed to light the roadway structure, a pixel pitch of 160mm was required of full RGBW over the 300m run," Mr Moreau said.
Photo: Matt Irwin
Contact:

ENTTEC
+61-3-9763-5755
Web site:

www.enttec.com

Submit new products, case studies/projects, and other press releases at http://www.ledsmagazine.com/content/leds/en/addcontent.html and http://www.ledsmagazine.com/content/leds/en/iif/add.html.