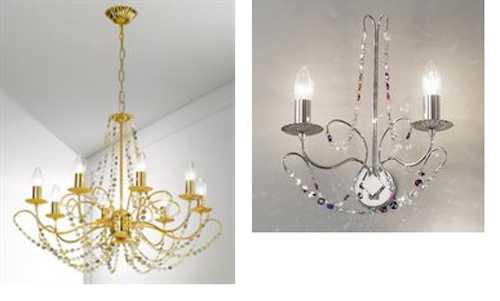 The KOLARZ® Ballerina chandelier is a really pretty, delicate light made from precious metals and the finest Swarovski SPECTRA ™ plain and coloured crystals.

"This is such a beautiful light and very popular for bedrooms and dining rooms. Coloured crystals are becoming increasingly popular with clients and we are introducing more shades and shapes in our new designs. Clients can choose the colours to match their decor", says Kristina Griffith, Managing Director of KOLARZ-UK.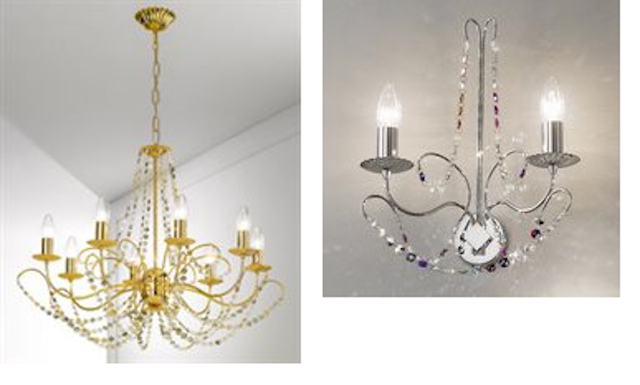 Kolarz launches Ballerina chandelier enhanced with optional colored Swarovski crystals

Available on a 24ct gold leaf or chrome frame with strands of plain crystals interspersed with coloured crystals to give a contemporary twist to the classic chandelier frame.

Made from the finest Austrian crystal and on a precious metal frame of 24 carat gold this light produced by KOLARZ®, the leading Austrian lighting company in their Italian factory is the epitome of graceful and timeless style and comes in a range of sizes. Also available are matching wall lights, seen above in chrome with coloured crystals.

KOLARZ® reputation for distinctive designs, skilled craftsmanship, the use of only the finest materials, technological expertise and its commitment to an unparalleled attention to detail consistently make KOLARZ® lights in demand for both commercial and residential interiors all over the world.

All KOLARZ® products are designed and manufactured in Europe using only the finest quality materials available, including top quality fine Austrian crystals including KOLARZ® crystal and Swarovski SPECTRA crystals, hand blown Murano glass, 24 carat gold, chrome or silver plating and only the best structural and electrical components.
Contact:

Kolarz
Web site:

Submit new products, case studies/projects, and other press releases at http://www.ledsmagazine.com/content/leds/en/addcontent.html and http://www.ledsmagazine.com/content/leds/en/iif/add.html.