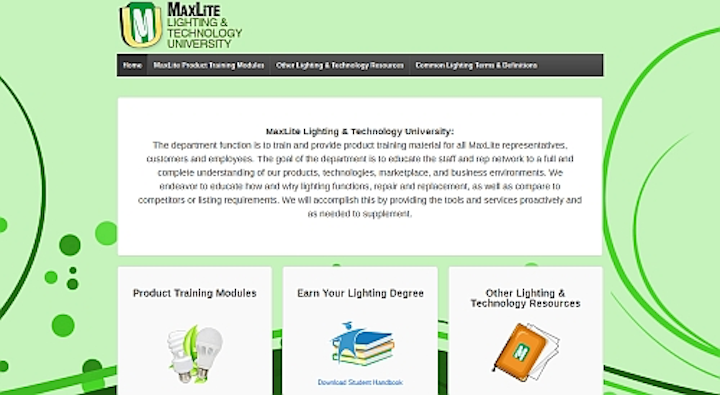 West Caldwell, New Jersey -- Although hundreds of lighting professionals attend courses offered by MaxLite® annually, newly hired MaxLite customer service representative Claude Malet recently broke all records by completing all three courses in under four and one half hours.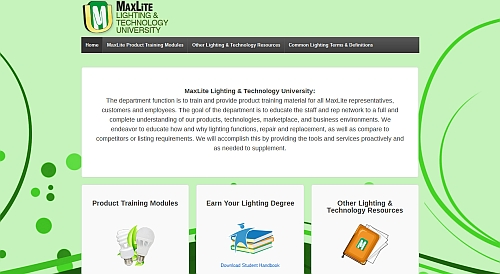 MaxLite offers training for lighting professionals with online university

Based in the California office, Malet possesses a dedication that parallels this leading manufacturer's commitment to lighting education and training, which is available through the MaxLite Lighting and Technology University (MLTU) website, monthly webinar series, seminars, and videoconferences.

"The MaxLite Lighting and Technology University was developed to educate industry professionals on the latest energy-saving lighting technologies and we salute Claude on his remarkable achievement," said Executive Vice President Thomas Rhee. "In addition to our employees, many customers and colleagues have attended our training courses to learn about the latest lighting products and technologies, regulations, and rebates that will help generate sales."

Malet completed three levels of courses in lighting fundamentals, applications and systems to earn his MLTU degree.

MLTU provides up-to-date product information on MaxLite's innovative MaxLED line of luminaires and lamps, as well as HighMax, CFL and Linear Fluorescent products. To access the MLTU, visit http://university.maxlite.com or locate it under the Resources dropdown menu of www.maxlite.com.

In addition, MaxLite provides an extensive schedule of lighting education and training events throughout the year. Custom sessions are available upon request. To view MaxLite's online Webinar Library, click on http://www.maxlite.com/webinar.

In the future, the MLTU plans to offer continuing education units (CEU) to attendees at select events.

About MaxLite
MaxLite has been committed to providing energy-efficient lighting products for the last 20-plus years, and was one of the first movers into LED technology in the industry. An ENERGY STAR® Partner of the Year, MaxLite established the MaxLED® brand, an extensive line of state-of-the-art indoor and outdoor lighting fixtures and lamps. Through MaxLite's innovative research and development capabilities in its California office and product assembly center in New Jersey, MaxLite continues to be at the forefront of energy-efficient technologies. For more information, follow us at https://twitter.com/maxlitenewsroom.

Contact:

MaxLite
+1-800-555-5629

E-mail:

Web site:

www.maxlite.com

Submit new products, case studies/projects, and other press releases at http://www.ledsmagazine.com/content/leds/en/addcontent.html and http://www.ledsmagazine.com/content/leds/en/iif/add.html.