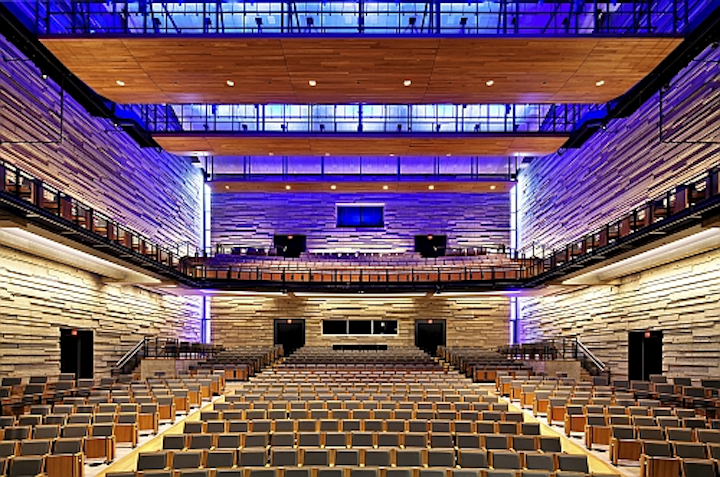 LAS VEGAS, Nev. -- The 2013 GE Edison Award is presented to Robert Shook, Maureen Mahr, Jennifer Curtis and Kimberley Corbett-Oates of Schuler Shook (Chicago, Illinois, USA) for lighting City Performance Hall in Dallas, Texas, USA. A personalized Steuben crystal award for the winner of this 31st annual lighting design competition was presented by GE Lighting on June 2, 2014, in Las Vegas, Nevada.

City Performance Hall, a showcase for Dallas' mid-sized arts companies, glows from within and provides an inspiring entry to the renowned Dallas Arts District. Designed before LEDs became truly viable as general lighting solutions, the project features GE 39-watt ConstantColor® CMH® lamps for interior downlights and wall wash fixtures in the lobby and exterior soffit.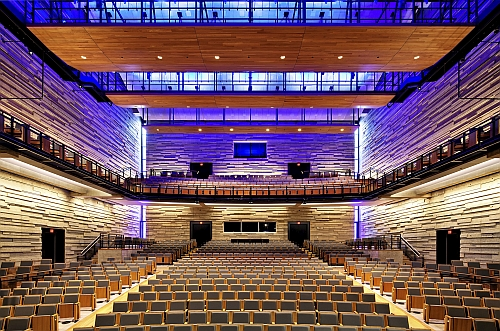 City Performance Hall in Dallas, Texas, provides an inspiring entry to the renowned Dallas Arts District with GE Lighting products. (Photo credit: Dallas Office of Cultural Affairs.)

City Performance Hall in Dallas, Texas, provides an inspiring entry to the renowned Dallas Arts District with GE Lighting products. (Photo credit: Dallas Office of Cultural Affairs.)

The multilevel main lobby is positioned tightly to the public sidewalk. Through the transparent curtain wall façade, the lobby's side walls, ceiling and lighting sweep away the boundary between interior and exterior. The rear wall is illuminated by a combination of border striplights and recessed lensed wall washers with 39-watt CMH® PAR30 narrow flood lamps. Ceiling fixtures are strategically zoned by row and function to provide greater flexibility for control despite having a non-dimmable source. Throughout the multilevel lobby, coves lit with GE 54-watt T5 3000K fluorescent lamps are integrated into lower ceilings to provide an indirect source of lighting. A similar detail using the same lamps in dimmable fixtures is repeated under the balcony in the performance space.

In the 750-seat proscenium theater, general lighting is provided by dimmable GE 500-watt halogen downlights, accessible from the catwalks above. Several LED color-changing features allow user groups to dramatically change the dynamic of the space, including RGB floodlights that light the concrete ceiling above the floating wood panel reflectors. The balcony floats away from the board-formed concrete walls, providing a location to conceal up and down border striplights lamped with GE 50-watt halogen HIR™ narrow flood lamps that graze the highly textured surfaces. In lieu of a traditional fabric stage curtain, an LED low-res matrix provides a contemporary canvas for commissioned video art.

A prestigious panel of five judges selected this year's winning entry for its superiority in the following categories: functional excellence; architectural compatibility; effective use of state-of-the-art lighting products and techniques; appropriate color, form and texture revelation; energy effectiveness; and cost effectiveness.

Judges for the 31st annual competition were:
- Domingo Gonzalez, IES, IALD, AIA, LC, Domingo Gonzalez Associates, New York, New York, USA
- Professor Hai Luoxi, Professor, College of Architecture & Urban Planning, Tongji University, Shanghai, China
- Charles "Chip" Israel, FIALD, MIES, LEED AP®, Lighting Design Alliance, Long Beach, California, USA
- Arq. Jose Ramón Tagle Del Cueto, LEED AP®, CxA, GCxP, AKF Group, Coyoacán, México
- Robert Young, LC, GE Lighting, Westchester, Illinois, USA

The winning project was one of three Awards of Excellence finalists. The other Awards of Excellence winners were:
- Global Investment Firm (San Francisco, California, USA) designed by BANKS|RAMOS Architectural Lighting Design (San Francisco, California, USA).
- Herscher Hall at Skirball Cultural Center (Los Angeles, California, USA) designed by Lam Partners (Cambridge, Massachusetts, USA).

Also presented at the GE Edison Awards ceremony were five Awards of Merit, six Awards for Environmental Design, one Award for Residential Design and three Awards of Special Citation.

Visit www.gelighting.com to view all the award winners of the 2013 GE Edison Awards in more detail and to find information related to the 2014 GE Edison Award call for entries.

Friend GE Lighting on Facebook or follow on Twitter to learn about the latest energy-efficient, long-lasting and environmentally preferable lighting solutions.

GE Lighting invents with the vigor of its founder Thomas Edison to develop energy-efficient solutions that change the way people light their world in commercial, industrial, municipal and residential settings. The business employs about 13,000 people in more than 100 countries, and sells products under the reveal® and Energy Smart® consumer brands, and Evolve™, GTx™, Immersion™, Infusion™, Lumination™, Albeo™ and Tetra® commercial brands, all trademarks of GE. General Electric (NYSE: GE) works on things that matter to build a world that works better.

Contact:

Cheryl Seredy
+1-216-266-2946

E-mail:

Web site: