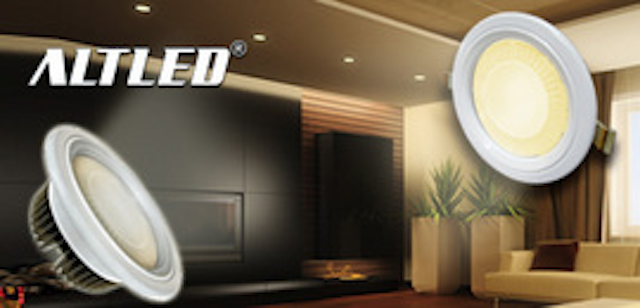 Date Announced: 15 Jan 2014
ALTLED® New Product – Luminaire-and-Light in One Downlight
Aeon Lighting Technology expands its Orion Series of LED retrofit recessed lights with the introduction of a new 4-inch downlight (20W). The new model is for existing sites, new construction and remodel installations.
The ALTLED® 4-inch LED downlight is a luminaire-and-light in one which does not require extra lighting fixture and replaces inefficient incandescent light sources. The fixture can be installed in existing housings, as well as in new or renovation projects. The frosted centre of the lens creates an appealing effect when lit up – providing an interesting option for interior designers. The downlight is offered in various beam angles and color temperature, varying from a golden-toned 2200K sunset glow to a bright True White reaching 2,000 lumens. The lights come in dimming options and can be installed easily; the ALTLED® 4-inch LED downlight is really light and with the fast fix spring clips - it goes in to the ceiling very easily.
ALT's energy-saving LED lights are recommended for applications requiring high lumen output and minimal light source identification. ALT takes pride in the quality of the ALTLED® products distributed worldwide. All materials, parts and final products go through a detailed system of testing. Each lamp is tested for heat resistance, light color temperature and beam spread accuracy, and dimmability claim.
About Aeon Lighting Technology
Aeon Lighting Technology (ALT) is a leading high-power LED manufacturer that focuses on precision and quality. ALT has acquired hundreds of patents, including state-of-the-art heat sink technology and has been awarded numerous international awards, including M Technology Award (2009), iF Product Design Award (2010), Red Dot Design Award (2011), and Good Design Award (2012). ALT has also passed international safety certifications such as Energy Star, DLC, UL, ETL, CE, PSE, C-TICK, LVD, FCC, TÜV, etc. ALT's team of designers, engineers and sales strive for perfection and provide premium quality products and service for customers worldwide.
Contact
Aeon Lighting - Robin W.P. Fu +886-2-8226-1289 EX.3002
E-mail:robin.fu@aeonlighting.com
Web Site:www.aeonlighting.com