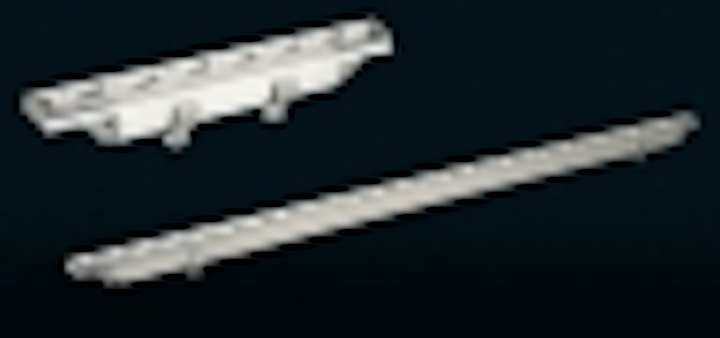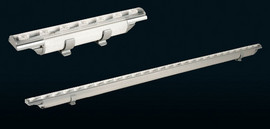 Date Announced: 09 Jan 2014
High-powered LED fixtures, in 1- or 4-foot sections, offer class-leading light output for wall grazing up to 20'
LOS ANGELES - Acclaim Lighting, a leader in innovative and advanced lighting technology, offers DynaGraze Interior SO, a linear, low profile, single-color, high-output fixture for indoor wall grazing applications.
The DynaGraze Interior SO features class-leading light output, robust aluminum housing and user adjustable mounting feet. Several color-temperature and single-color options are available. Because it provides smooth, linear dimming from 100 to 1 percent with electronic low-voltage (ELV) modules and with most commercially available triode-for-alternating-current (TRIAC) dimmers, the DynaGraze Interior SO requires no additional signal- or control cabling when replacing traditional lighting fixtures within an existing installation.
Available in 1- and 4-foot versions, DynaGraze Interior SO fixtures can be linked together in one chain, or can be installed using link cables, available in various lengths. A 1-foot version uses 10 3-W Cree LEDs to produce 834 lumens at 2,700 K, while the 4-foot version uses 40 LEDs to produce 4,570 lumens at 4,000 K. The DynaGraze Interior SO offers color temperatures of 2,700, 3,000, 3,500 and 4,000 K, with a Color Rendering Index (CRI) rating of 87 at 4,000 K.
For more information on the DynaGraze Interior SO grazing, contact Acclaim Lighting at 323-213-4626 or visit www.acclaimlighting.com.
Contact
Brian Bloom for Acclaim Lighting +1-216-696-0229
E-mail:bbloom@fallscommunications.com
Web Site:www.acclaimlighting.com