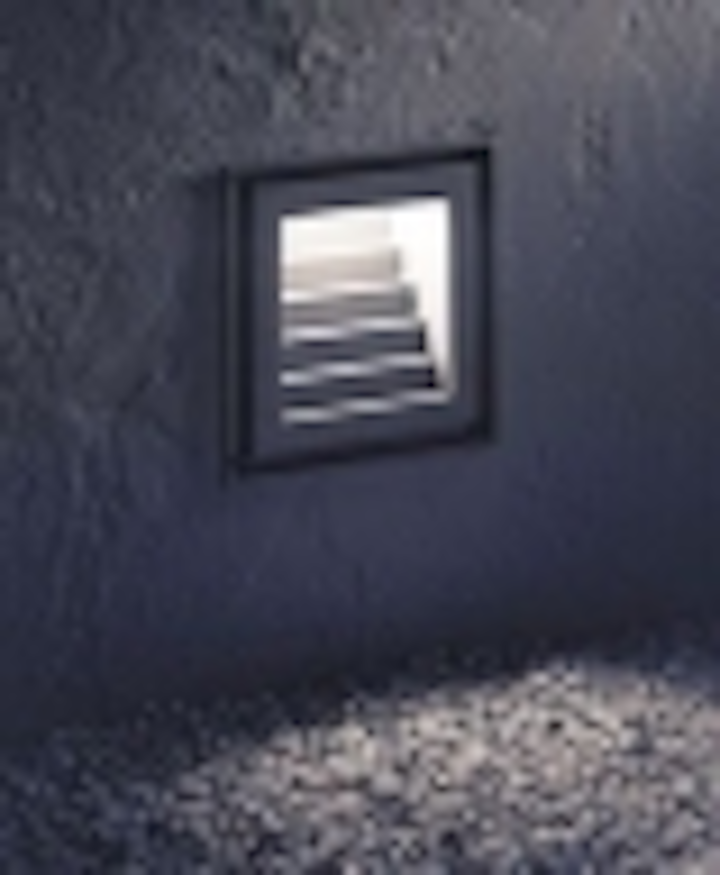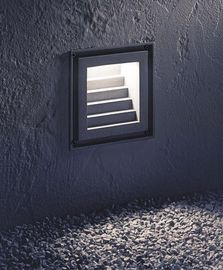 Date Announced: 30 Jan 2014
New Product Introduction: Sedi LED — three-dimensional recessed wall luminaire incorporating the latest LED sources.
Product Design: Karsten Winkels, German architect
Manufacturer: HessAmerica, U.S. subsidiary of Hess GmbH Light + Form of Germany.
Product Applications: Sedi LED is well suited for feature spaces and pedestrian zones where the low power consumption and long life of solid state lighting combined with unobtrusive contemporary design are desired. Applications include educational facilities, corporate campuses, casinos, malls, hospitality and entertainment venues, and upscale retail establishments.
Product Description: The Sedi LED recessed wall luminaire creates a functional wall sculpture, while delivering glare-free ambient illumination to outdoor spaces. The unique stepped faceplate creates visual interest, day or night, by adding depth to ordinary wall surfaces. Diodes are regressed within the top of the luminaire above the faceplate, shielding the source at normal pedestrian viewing angles.
The Sedi LED luminaire is available in two sizes to satisfy varying scale requirements. The smaller model is 9.5" square, while the larger rectangular version measures 19.3" wide by 9.5" high. Installation depth of both models is just under 5 3/5".
Sedi LED is available in a choice of warm or neutral color temperatures with a CRI greater than 80. L70 lifetime of the LEDs is 60,000 hours for extended operating performance. Optional 0-10v dimming capability is available upon request. Both LED models deliver a minimum of 50% more light output than the traditional compact fluorescent variants while consuming half the power. The small version consumes 10 watts, and the larger model consumes 23 watts.
Sedi LED is rated for wet locations and is suitable for use in exterior, interior, and poured concrete walls. Standard finishes are finely textured matte silver grey metallic or graphite grey. All hardware is stainless steel.
Construction and Finishes: Sedi LED luminaire housing and stepped faceplate are cast aluminum. The faceplate mounts to the housing with four captive stainless steel screws. A one piece silicone gasket on the housing provides weather tight seal when closed. Matte acrylic lens is bonded to the top of the faceplate and is concealed from normal viewing angles. Luminaire installs into a formed aluminum rough-in box, suitable for through wiring.
Linear LED source is regressed within the luminaire housing. LEDs are available in 3000K or 4000K color temperatures with a typical CRI of 85. The universal electronic driver has a power factor rating greater than 90% and will accept 120v through 277v input voltage at 60 Hertz. L70 lifetime is 60,000 hours, based on the LED manufacturer's LM-80 data report and extrapolation of lumen maintenance curves per IES TM-21-11.
Rough-in boxes may be pre-shipped in advance. Standard luminaire colors are finely textured matte silver grey metallic or graphite grey. Special colors available on request. All hardware is stainless steel.
Ordering Information: Literature and specifications for the Sedi LED or other outdoor architectural lighting products are available by contacting authorized HessAmerica professional independent lighting sales representatives at www.hessamerica.com/About_us/Representative/. Website: www.hessamerica.com.
Contact
HessAmerica +1-864-487-3535
E-mail:info@hessamerica.com
Web Site:www.hessamerica.com