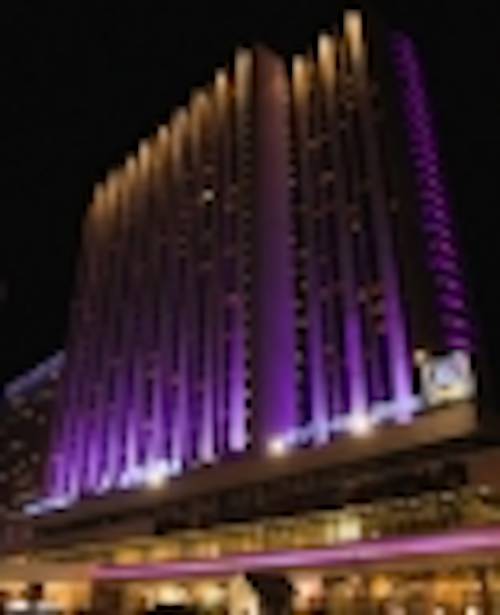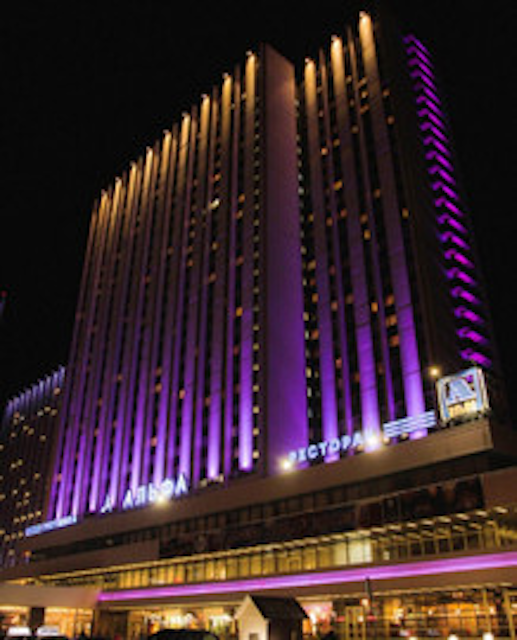 Date Announced: 07 Jan 2014
Dramatic Façade Lighting Delivers 70% Energy Savings
Chunan, Taiwan - The tourist hotel complex (THC) Alpha in Moscow recently received a dramatic new façade wall-wash from Twenty First Light ltd, a Russian manufacturer of LED luminaire solutions, using SemiLEDs Corporation (NASDAQ: LEDS), C35 color and warm white LEDs. With substantial product support from SemiLEDs, Twenty First Light developed three types of saturated purple and warm white spotlights for the project to achieve both a powerful visual impact and high reliability for the distinctive lighting scheme.
"THC Alpha is a high profile landmark in Moscow, and as such, this was a high-exposure project for Twenty First Light that demanded a solution which would start out visually appealing, and then stay that way over the life of the installation," commented Sergey Stakharny, Director of Twenty First Light. "It was very important to us that the LED manufacturer both understood what we were trying to achieve, and would provide flexible support that minimized our engineering challenge while streamlining the project and maximized the reliability of the installed luminaires. SemiLEDs was able to meet those needs, contributing to the success of this program."
First Light tackled the project by developing three distinct types of luminaires, including 40W saturated purple spotlights for the individual balconies on the building's side, as well as narrow-beam 100W purple and 70W warm white spotlights illuminating the building façade for a color-fade effect from bottom to top. In addition, a series of prototype 150W RGB color-changing spotlights, also based on SemiLEDs C35 LEDs, were developed to allow on-site testing of different hue and saturation effects. With the final selection being a saturated purple, Twenty First Light was able to optimize the performance and value by engineering a static combination of blue and red LEDs matching the specified and tested shade. The LEDs were surface mounted on a single aluminum array plate, and supplemented by secondary optics to achieve a 10-degree beam angle. The 100W purple and 70W warm-white spotlights respectively replaced 400W and 250W high pressure sodium lamps netting over 70% energy savings.
"We were very pleased to support Twenty First Light in the development of these customized luminaires constructed around SemiLEDs C35 family of LEDs," commented Dr. Ilkan Cokgor, Executive VP of Sales and Marketing for SemiLEDs. "One big promise of LEDs is to enable the kind of design flexibility that Twenty First Light devised, allowing the end-specifier to see a dynamic test luminaire for color selection, and then translating that into a cost-optimized, and highly reliable production solution set. That flexibility demands a wide product offering, robust technology, and a manufacturer that has the ability to interact with the luminaire designers with individualized support. It's what distinguishes SemiLEDs as both a technology and solutions leader."
Images: http://www.veriphos.com/client/semileds/thc-alpha/
About SemiLEDs Corporation
SemiLEDs develops and manufactures LED chips and LED components primarily for general lighting applications, including street lights and commercial, industrial and residential lighting, along with specialty industrial applications such as ultraviolet (UV) curing, medical/cosmetic, counterfeit detection, and horticulture. SemiLEDs sells blue, green and UV LED chips. For product information, please visit www.semileds.com, email sales@semileds.com, or tel +866 (37) 586-788 (Taiwan).
About "Twenty First Light" ltd
Founded in 2010, "Twenty First Light" ltd. is a Russian manufacturer of LED products for the industrial, administrative, street and architectural lighting. Notable projects include Lighting RZD car repair workshops, Lighting Machinery & Industrial Group N.V. workshops, and "Neoflowers" Shop design lighting in Vremena Goda Galleries. Visit www.21svet.ru or www.21light.ru
Forward Looking Statements
This press release contains statements that may constitute "forward-looking" statements within the meaning of Section 27A of the Securities Act of 1933, as amended, and Section 21E of the Securities Exchange Act of 1934, as amended, and as defined in the U.S. Private Securities Litigation Reform Act of 1995. All statements other than statements of historical fact could be deemed forward-looking, including, but not limited to, any projections of future revenues, income, margins or other financial information; any statements about historical results that may suggest trends for SemiLEDs' business; any statements of the plans, strategies and objectives of management for future operations; any statements of expectation or belief regarding recovery of the LED industry, market opportunities and other future events or technology developments; any statements regarding SemiLEDs' position to capitalize on any market opportunities; and any statements of assumptions underlying any of the foregoing. These forward-looking statements are based on current expectations, estimates, forecasts and projections of future SemiLEDs' or industry performance based on management's judgment, beliefs, current trends and market conditions and involve risks and uncertainties that may cause actual results to differ materially from those contained in the forward-looking statements. SemiLEDs' Annual Report on Form 10-K filed with the Securities and Exchange Commission (the "SEC") and other SemiLEDs filings with the SEC (which you may obtain for free at the SEC's website at http://www.sec.gov) discuss some of the important risks and other factors that may affect SemiLEDs' business, results of operations and financial condition. SemiLEDs undertakes no intent or obligation to publicly update or revise any of these forward looking statements, whether as a result of new information, future events or otherwise, except as required by law.
Contact
Connie Chen +886-(37)-586-788 ext 8121
E-mail:connie.chen@semileds.com
Web Site:www.semileds.com