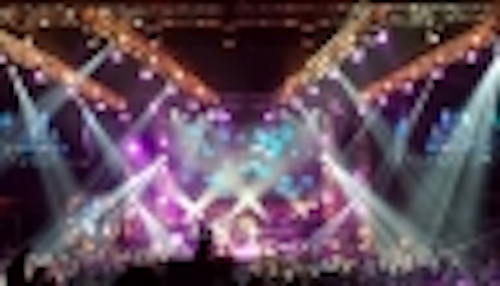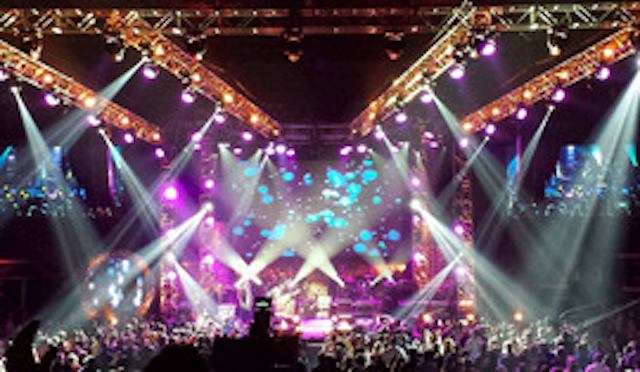 Date Announced: 09 Jan 2014
NASHVILLE, TN – With artists like Matthew West, Big Daddy Weave, Jeremy Camp and Natalie Grant on stage, the Impact New Year's Eve concert at Lipscomb University's Allen Arena in Nashville featured some of the biggest names in Christian music. Broadcast online to churches and youth centers around the world, the five-hour celebration of music and entertainment also represented what many are calling the largest faith-based global gathering ever assembled in one evening.
Such an event required a powerful lighting statement, which is precisely why LD Mark Carver of Mark Carver Designs in Nashville selected 28 Legend™ 230SR Beams from CHAUVET® Professional for his Impact New Year's Eve rig.
"We chose the Legend fixtures because we knew that their hard sharp beams would help us create the right energy level for the audience at the arena and the millions viewing the broadcast of this event," he said. "Allen Arena is a very large venue; and if you want to tone the audience with light, you need a fixture that can fill this massive space without looking overwhelmed. The Impact producers wanted to make sure that we defined the space in the arena and created excitement with our lights. The CHAUVET Legends were the perfect choice for this application."
Featuring a 230-watt Osram Sirius lamp, the Legend 230SR Beam has an undeniably intense 96,000 lux at 15 meters output and a super sharp 2.25-degree beam angle. In addition to its impressive output, the Legend 230SR Beam features a zooming 8-facet prism and 17 gobos (plus open) for beam shaping effects, automated focus, and seamless split colors. All of these features contributed to the lightshow that engaged the Impact audience.
Carver used 28 Legend 230SR Beam fixtures in his Impact rig; eight of these units were on the stage itself and 20 were positioned in the house on audience trusses. "The lights out on the truss were critical in helping us immerse the audience in a wonderful New Year's Eve experience," he said.
Well-known lighting designer/programmer and performer Susan Rose also deserves a lot of credit for making Impact so… impactful, said Carver. "Susan did a masterful job programming this whole thing," he noted. "She worked wonders bringing the rig to life and making it look so memorable."
For her part, Rose said that her experience as a performer was invaluable in helping her program a lightshow for an event that featured such a wide variety of superstars. "When programming, I feel the music, and therefore make people 'see' the music through lights. Being a musician, I have a natural feel for timing and vision, for color combinations and creating cool looks."
Like Carver, Rose was impressed with how the Legends interacted with the Allen Arena audience. "A lot of our focuses are angled towards the audience and angled towards the cameras to give us those really big looks. The lights created a huge look both for the cameras and the audience. The CHAUVET Legends were beautiful eye candy."
New Year's Impact was produced by Texas-based Blue Scout Media, a video and technology services company specializing in live event production and streaming of concerts, conferences, and other major events. The Blue Scout Media team created New Year's Impact as a ministry to challenge Christians to make an Impact in the lives of those around them, and as a tool for churches to reach their community.
Carver, a highly regarded and experienced LD, is no stranger to lighting major events. The staff lighting designer for TNN for 16 years, he has worked on the 2002 Winter Olympics Opening and Closing Ceremonies in Salt Lake City, Utah; the 2004 Summer Olympics Opening and Closing Ceremonies; 2006 Super Bowl XL host show, CMA Music Fest 2008-2013 and many more high profile projects.
"Every project has its own unique creative challenges and meeting them is always a very gratifying experience," said Carver. "The CHAUVET Legend 230SR Beam helped me do that at Impact – it was a rewarding project."
About CHAUVET® Professional
CHAUVET® Professional offers innovative professional lighting fixtures for the production and touring market as well as permanent installation in theaters, hospitality venues, cruise ships, clubs, television and architainment applications. For more information, please visit www.chauvetprofessional.com.
About Chauvet
Chauvet, headquartered in the USA, is a leading global manufacturer of professional luminaires, truss and related equipment, fulfilling the needs of various industry sectors. Chauvet has four main brands: CHAUVET® DJ, CHAUVET® Professional, ILUMINARC® and TRUSST®. They share Chauvet's unified strategy to pursue every market segment where it has a competitive advantage in terms of value, innovation and performance, with an emphasis on LED technology. For more information, please visit www.chauvetlighting.com.
Contact
CHAUVET® Professional +1-954-577-4455
E-mail:jramirez@fucinipro.com
Web Site:www.chauvetlighting.com