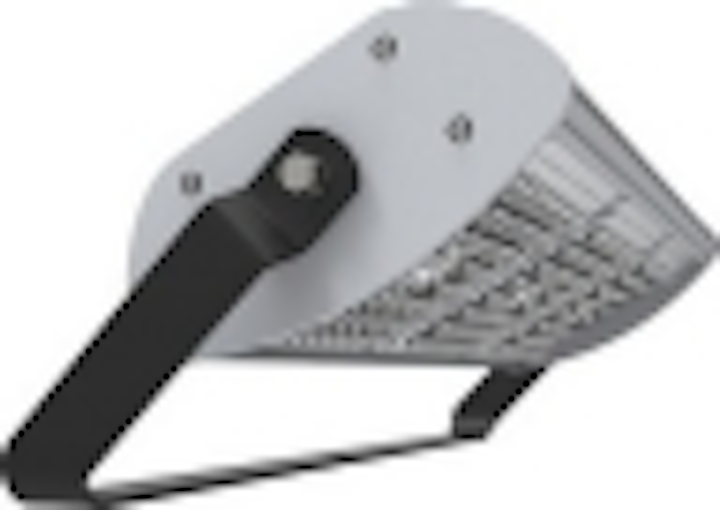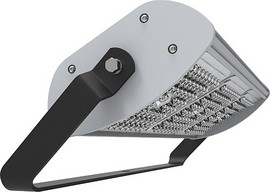 Date Announced: 07 Mar 2014
Greenville, SC -- Hubbell Lighting, a world leader in lighting innovation, announced today the newest energy efficient lighting solution for today's sports arenas -- Sportsliter Solutions' ArenaLED. From the pre-game excitement of spotlight introductions to crisp lighting that enhances each point and goal scored, ArenaLED makes any game an experience.
Designed specifically for interior sports and civic arenas, the ArenaLED produces optimal television and live audience viewing, as well as low-glare light for player comfort. The individually engineered LED optics of the ArenaLED provide the highest level of uniformity and distribution to playing surfaces and minimizes wasted angles of light typically emitted by traditional sources.
Unlike current sports arena lighting fixtures that require motorized shade options for the instant blackout effect, LED is a solid-state lighting solution that delivers immediate on/off capabilities. This eliminates both the uncertainty and maintenance of the shades for halftime events, theatrical effects for player introductions, or other venue shows.
Delivering 40,000 lumens at 92+ lumens per watt, the ArenaLED provides consistent and reliable light for a calculated 100,000 hours. With a total system wattage of 415W, the fixture's extruded, finned housing design allows for optimal heat dissipation and a remote driver enclosure offers increased thermal control and ease of maintenance. Additionally, the single piece aluminum housing is gasketed for dust and moisture resistance.
With the ArenaLED, energy consumption decreases while cost savings go through the roof. In a 10,000 seat arena, the typical lighting system consists of 70 1,000W HID fixtures. If replaced with the same number of 415W ArenaLED fixtures, there will be a 60% reduction in kW consumption and an annual savings of up to $18,000 (based on $0.10KWH).
The ArenaLED Series is also eligible for Hubbell Lighting's innovative Cash Flow Positive program, which supplies funding opportunities for sports relighting projects. For information on financing options that keep dollars in your pocket, please visit: www.hubbelllighting.com/resources/financing/.
To learn more about Sportsliter Solutions' ArenaLED Series, please visit http://www.sportslighting.com/.
About Hubbell Lighting
Hubbell Lighting is one of the largest lighting fixture manufacturers in North America. The company provides a full range of indoor and outdoor lighting products serving the commercial, industrial, institutional, and residential markets. Hubbell Lighting brands include Alera Lighting, Architectural Area Lighting, Beacon Products, Columbia Lighting, Compass Products, Devine Lighting, Dual-Lite, HomeStyle Lighting, Hubbell Building Automation, Hubbell Industrial Lighting, Hubbell Outdoor Lighting, Kim Lighting, Kurt Versen, Prescolite, Progress Lighting, Security Lighting, Spaulding Lighting, Sportsliter Solutions, Sterner Lighting Systems, Thomasville Lighting, and Whiteway. Hubbell Lighting: one name, distinctive brands, limitless lighting possibilities. For additional information, please visit www.hubbelllighting.com and follow Hubbell Lighting on YouTube, Twitter and Facebook.
Contact
Hubbell Lighting Contact: Andy Beck, Makovsky +1-202-587-5634
E-mail:abeck@makovsky.com
Web Site:www.sportslighting.com