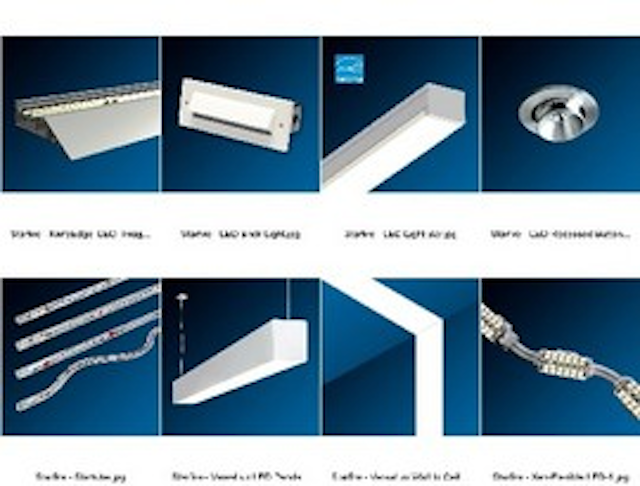 Date Announced: 18 Mar 2014
Wood-Ridge, NJ -- Starfire Lighting, Inc., 39-year American-owned designer/manufacturer of production and custom, architectural and decorative energy-saving light fixtures, announces introduction of "The Starfire LED Product Line".
New Product-Line Introduction: The Starfire LED Product Line -- a broadly adaptable range of primarily interior LED lighting solutions, UL, cUL listed.
This architecturally comprehensive, widely applicable new line includes Knife Edge LED adjustable cove lighting; Xen-Flexible LED ultra-flex, very low watt, high CRI linear lighting; VersaLux LED linear-slot lighting with pin-hole apertures, flush and recessed snap-in lenses; linear pendant and surface lighting; recessed wallwash and down lights; linear wall-to-ceiling, and down lighting; Light Bar LED task and undercabinet lights; Step and Brick LED indoor/outdoor lights; Recessed Button Series LED lights; and Startube LED clear, rigid straight and curved tube lighting.
Design: Starfire Lighting In-House Product Design and Engineering Team.
Manufacturer:Starfire Lighting, Inc. American founded 1975, with its own American plant; still American-owned today with a newer, larger American plant.
Product-Line Descriptions: The Starfire LED Product Line may be specified across dozens of individual models, in multiple luminaire categories. Each category and model provides LED high-performance, long-life/low-maintenance lighting, with design continuity. Overall, The Starfire LED Product Line comprises:
- Knife Edge LED Cove System. Full-range dimming, high efficacy, high CRI. Angle-adjustable without creating shadows. T5, T5HO and T5MAX equivalent lumen outputs.
- Xen-Flexible LED. Linear ultra-flexible straight or curvable lighting systems, with white or colored LEDs.
- VersaLux LED Linear Slot and Wall-to-Ceiling Lights. Pinhole and full-length linear apertures with uniform illumination, flush and regressed snap-in lensing, full range dimming.
- VersaLux LED Linear Pendant and Surface Lights. Direct/indirect illumination, flush snap-in lensing and full-range dimming.
- VersaLux LED Wallwash and Downlight Modules. EZ Twist-in LED modules allow swift installs, future tool-free technology upgrades. Dimmable in a variety of protocols, the latter with splay apertures and regressed lensing.
- Light Bar and Under Cabinet LED Task Lighting. Low-profile, inch-wide modular designs that provide flexibility, swift installations and continuous-run lengths, with use of in-line or flexible cable connectors.
- Step and Brick LED Lights. Low-profile recessed indoor/outdoor LED lighting systems, that consume just 3 to 5 watts. Eight distinctive face-plate designs; six horizontal, two vertical. Use for pathway/walkway, step/stair safety-lighting in dusk/dark/other low-light conditions. All IP65 rated. Easy 3-piece assembly.
- Recessed Button Series LED Display and Cabinet Lights. Family of six miniaturized recessed lights, in fixed and adjustable configurations.
- Startube LED. Rectangular, round or ultra-flexible clear tube lights; made-to-order lengths and lamp spacings; dimmable, waterproof, maintenance-free.
Contact Information: Full literature, specifications and pricing for designs in The Starfire LED Product Line available online.
Contact
Starfire Lighting, Inc. +1-800-443-8823 or +1-201-438-9541
E-mail:info@starfirelighting.com
Web Site:www.starfirelighting.com