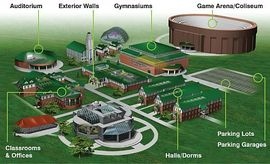 Date Announced: 03 Mar 2014
Createchange® Initiative Allows Schools to Project Energy Savings through Retrofits, Then Validate those Estimates with Sample Products in 90-Day Trial
Company Couples createchange® Program with Easy Financing Solution
Greenville, SC -- In the U.S., colleges and universities spend an average of $31,000 a year lighting a typical 50,000-square-foot classroom building—money wasted on utility and maintenance costs rather than the pursuit of academic achievements. To expedite and encourage savings, Hubbell Lighting announced a new energy efficient lighting program to cut electricity costs by 84%, enhance the quality of light and reduce the financial risk of upgrades.
The initiative, called createchange® consists of two innovative offerings from Hubbell Lighting:
A suite of unique audit tools and other product selection resources implemented with Hubbell Lighting consultants that allow schools to precisely forecast the economic impact of various lighting retrofit strategies and identify any utility rebates that are available.
A 90-day risk-free trial program called "Compare in the Air", which allows customers to validate cost saving estimates in buildings or outdoor environments with up to four Hubbell Lighting products. After the trial period, customers can decide to keep the products or return them for a full refund.
"Making the change to energy efficient lighting and controls offers schools an incredible opportunity to free up funds that can be used for academic endeavors rather than operating expenses," said Scott Muse, President of Hubbell Lighting. "Our createchange® program offers colleges and universities as close to a guaranteed energy and maintenance savings as exists."
The createchange® program includes a comprehensive evaluation of campus lighting solutions for classrooms, offices, halls, dorms, auditoriums, gymnasiums, coliseums, parking garages and lots, building exteriors, and other indoor and outdoor spaces. New lighting and control devices can dramatically reduce energy and maintenance costs. For example, simply changing out 2800 4 Lamp T8 fluorescent tube troffers in classrooms and offices in a typical university to Columbia Lighting's Serrano LED LSER troffers will save the school approximately $94,662 a year -- the equivalent of approximately 5 full scholarships.
"The createchange® program for colleges and universities is even more powerful when coupled with our Cash Flow Positive program," added Muse. "With a simple approval process, we will fund your entire lighting and controls upgrade; including all products, installation and project-related materials and services. Even better, wherever possible, we will structure the financing to ensure that energy cost savings are greater than monthly financing costs, which means that schools will experience an immediate positive cash flow."
With Hubbell Lighting's Cash Flow Positive program, colleges and universities can receive no down payment, 100% fixed rate, long-term financing usually approved in 24-48 hours that does not impact existing lines of credit or hinder their ability to borrow in the future.
"We are in a situation today where the economic advantages of new lighting technologies are a given," remarked Muse. "Now we need to spur adoption. That is why createchange® is so important."
To learn more about Hubbell Lighting's createchange® program for college and university campuses, visit www.hubbelllighting.com/solutions/retrofit/applications/.
About Hubbell Lighting
Hubbell Lighting is one of the largest lighting fixture manufacturers in North America. The company provides a full range of indoor and outdoor lighting products serving the commercial, industrial, institutional, and residential markets. Hubbell Lighting brands include Alera Lighting, Architectural Area Lighting, Beacon Products, Columbia Lighting, Compass Products, Devine Lighting, Dual-Lite, HomeStyle Lighting, Hubbell Building Automation, Hubbell Industrial Lighting, Hubbell Outdoor Lighting, Kim Lighting, Kurt Versen, Prescolite, Progress Lighting, Security Lighting, Spaulding Lighting, Sportsliter Solutions, Sterner Lighting Systems, Thomasville Lighting, and Whiteway. Hubbell Lighting: one name, distinctive brands, limitless lighting possibilities. For additional information, please visit www.hubbelllighting.com and follow Hubbell Lighting on YouTube, Twitter and Facebook.
Electricity Rate: $0.11 per KWH and includes lighting energy, maintenance, HVAC and controls savings.
College Board: 2013-2014 public college in-state tuition and fees $8,893 and $9,500 for room and board.
Contact
Hubbell Lighting Contact: Andy Beck, Makovsky +1-202-587-5634
E-mail:abeck@makovsky.com
Web Site:www.hubbelllighting.com/solutions/retrofit/applications/