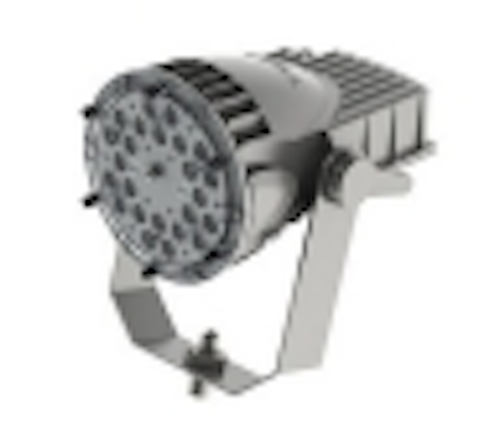 Date Announced: 21 Mar 2014
Greenville, SC -- Hubbell Lighting, a world leader in lighting innovation, announced an energy efficient LED luminaire capable of exceeding the demands of any floodlighting application -- Beacon Products' Cadet Luminaire. Designed with optical versatility in mind, the Cadet provides an unmatched combination of vertical and horizontal illumination.
Beacon's Cadet is a direct replacement for quartz, compact fluorescent, metal halide, and HPS from 50W through 250W making it the energy efficient choice for applications that include: columns, flags, statues, security, landscapes, and building flood-lighting.
With more than six different optical options, light is put exactly where it is needed and is never wasted. The floodlighting optics are available in 2x2, 4x4, 5x5, 6x6, 5x3 and 3x5 NEMA distributions and are interchangeable with Type 2, 3, 4, and Type V roadway and area lighting optics. This extensive choice of beam patterns eliminates spill light and light trespass making the Cadet an ideal instrument for lighting commercial facilities in both residential and urban settings.
Uniquely, the Cadet Luminaire features easy-to-manage user adjustable light output with the company's revolutionary LED cartridge bezel system. With a maximum wattage of 55W, the Cadet's bezel lets you easily change the fixture output directly in the field to four different nominal levels: 100%, 75%, 50%, and 25%. This technology gives users the ability to fine-tune energy conservation and lighting layout in the field and adjust to various conditions as needed.
The Cadet Luminaire's lens is Clear Plexiglas® DR® impact modified thermo-plastic acrylic which is a heat resistant resin and provides 10 times the impact resistance of standard acrylics without yellowing from UV exposure. The housing and electrical compartments are made from die cast aluminum that is pre-treated and powder-coated to meet the most rugged industry standards. The Cadet Luminaire is available in over 10 colored finishes offering a variety of options for varying installation environments.
The product is CSA certified, suitable for wet locations and comes equipped with a 5 year limited warranty.
To learn more about Beacon Products' Cadet Luminaire, please visit: http://www.beaconproducts.com/. Also, for daily updates on Beacon Products, you can like and follow their pages on Facebook, Twitter and LinkedIn.
About Hubbell Lighting
Hubbell Lighting is one of the largest lighting fixture manufacturers in North America. The company provides a full range of indoor and outdoor lighting products serving the commercial, industrial, institutional, and residential markets. Hubbell Lighting brands include Alera Lighting, Architectural Area Lighting, Beacon Products, Columbia Lighting, Compass Products, Devine Lighting, Dual-Lite, HomeStyle Lighting, Hubbell Building Automation, Hubbell Industrial Lighting, Hubbell Outdoor Lighting, Kim Lighting, Kurt Versen, Prescolite, Progress Lighting, Security Lighting, Spaulding Lighting, Sportsliter Solutions, Sterner Lighting Systems, Thomasville Lighting, and Whiteway. Hubbell Lighting: one name, distinctive brands, limitless lighting possibilities. For additional information, please visit www.hubbelllighting.com and follow Hubbell Lighting on YouTube, Twitter and Facebook.
Contact
Andy Beck, Makovsky - for Hubbell Lighting +1-202-587-5634
E-mail: abeck@makovsky.com
Web Site:www.beaconproducts.com