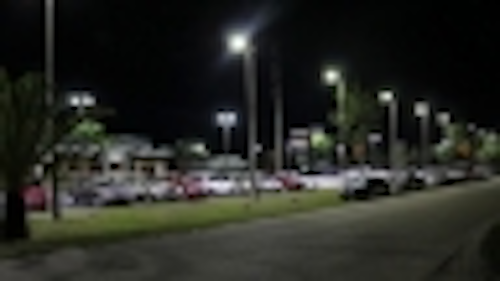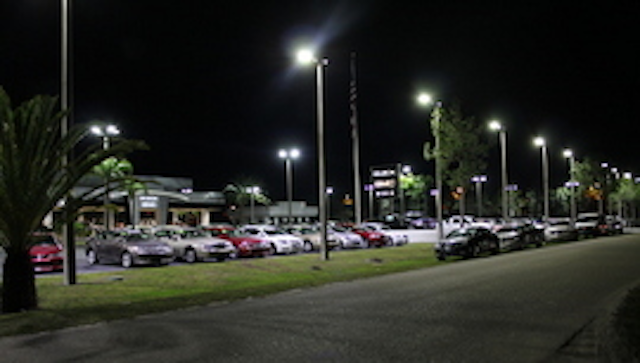 Date Announced: 20 Mar 2014
Arkon Engineers Provide Dixie Buick Unique Solution
- Dixie Sales Manager: LEDs Provide Advantage Over Competition
- $35,000 Annual Power Savings to Payback in less than 3 Years
- Mixing Fixture Wattages Optimizes Aesthetic, Savings
The arms race was on for Dixie Buick GMC in Fort Myers, Fla. The goal? Sell more cars. The weapon? Lot-enhancing lighting.
"My competitors have all improved their lights over the last several years," said Steve Johnson, the dealership's sales manager. "Still, our Arkon LED lighting stands out among them all."
Johnson and Dixie Buick Owner Richard Atkins were having problems with their existing lighting, and they knew they had to find the most cutting edge lighting technology to outpace the other car lots on the South Florida strip where they're located. The solution was to replace Dixie Buick's 80 1,000-watt metal halide bulbs with a mix of 120-, 200- and 300-watt Shoeboxes from Arkon LED.
Arkon's lighting engineers performed an in-depth light field study and determined the best strategy for Dixie Buick. The result was bright light throughout the facility with optimized power usage. The lighting conversion is expected to yield Dixie Buick $35,000 per year in savings, which will pay back the cost of the project in about two years.
"Why make the back of the car lot look as bright as the front?" Arkon's Greg Papandrew asked. "By selectively reducing wattage, we were able to shave a third off the already-reduced power consumption."
In addition to the optimized power and cost savings, Dixie Buick will enjoy the other benefits of top-of-the-line LED lighting—drastically reduced maintenance, increased safety and security, and the aesthetic appeal to sell more cars.
"The difference between the lighting now and before is truly night and day," Johnson said. "When you drive down the street, we are the most visible store on the strip of car dealers. If you are on the lot looking at a car, you can actually see in the car, see the interiors, read the window labels. It has made all the difference."
Contact
Arkon LED +1-855-733-2724
E-mail:eleni@arkonled.com
Web Site:www.arkonled.com