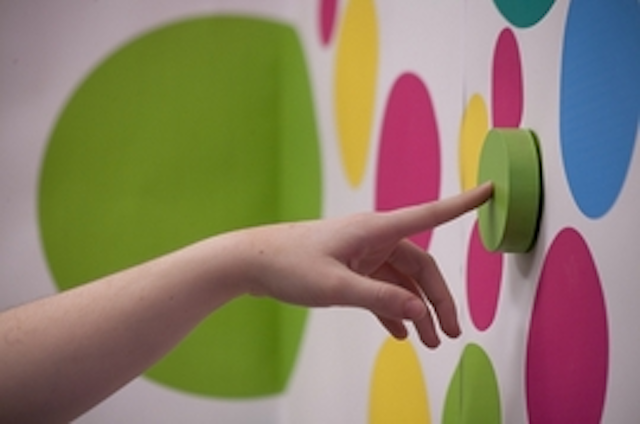 Date Announced: 18 Mar 2014
A detail from the Parsons installation at Light + Building 2014
New York -- How does light change what we see? How do tungsten, florescent, LED, a camp fire, or a car's headlights not just create a different experiential environment, but actually physically change the way we perceive the world?
This spring, students from Parsons The New School for Design will present the results of months of experiments in LED lighting technology at Light + Building, the largest international lighting trade fair in the world. Working closely with experts from Xicato, one of the world's leaders in LED modules and lighting technology, a group of graduate and undergraduate students from across Parsons' five schools have created an interactive, full-scale installation that offers visitors at the Xicato booth (A G.0 A10) a dynamic and immersive experience of light, color, and space.
The Parsons installation will be a small room lined with a wraparound skin of candy-colored dots in six Pantone colors: pink, red, blue, yellow, green, and light green. At several spots on the wall will be a series of buttons, which when pressed (alone or together) will produce a unique light show that dramatically changes the light in the room and the how the viewer perceives her environment. The dots seem to blend together, pop out of their background, or change color entirely depending on the lights activated. All the effects are achieved with LED lighting alone, and show the possibilities of this still-developing technology.
"This project gives our students access to some of the most cutting-edge lighting technology available today," said Assistant Professor of Lighting Design Glenn Shrum, who led the two classes who have whose work will be on display at Light + Building. "Getting them to work together with other students from different backgrounds and with areas of expertise to accomplish something truly novel is what we think a 21st century design education should be."
"We are always appreciative of the opportunity to work with designers that bring intriguing perspectives to how light is perceived," said Ron Steen, VP of Business Development at Xicato. "The students have done an incredible job and we think that visitors to Light + Building will be excited to experience the exhibit."
Parsons and Xicato hope this project gives visitors to the installation a better understanding of the creative and technical potential of lighting design to shape perception and experience. If it causes them to stop and think how their environment is being constantly shaped by the light that surrounds them, all the better.
For a composite image of the Parsons installation, showing how the nature of the white light affects the perception of color, taken in a a full scale prototype installed in Parsons' Light + Energy Lab, please click here.
Parsons The New School for Design is one of the leading institutions for art and design education in the world. Based in New York but active around the world, the school offers undergraduate and graduate programs in the full spectrum of art and design disciplines. Critical thinking and collaboration are at the heart of a Parsons education. Parsons graduates are leaders in their respective fields, with a shared commitment to creatively and critically addressing the complexities of life in the 21st century. For more information, please visit www.newschool.edu/parsons.
Contact
Chris Chafin - for Parsons The New School for Design +1-212-229-5667 x3794
E-mail:chafinc@newschool.edu
Web Site:www.newschool.edu