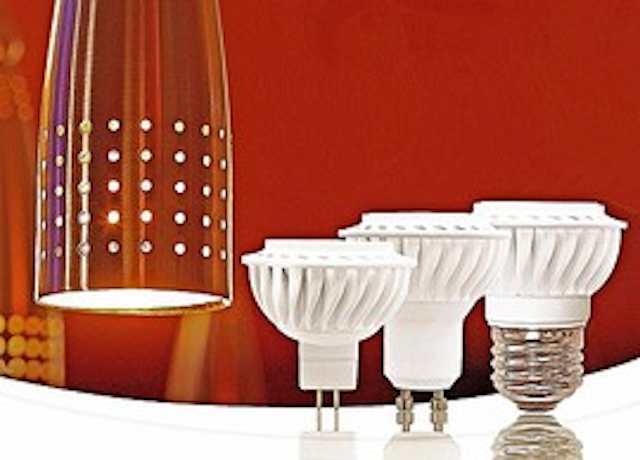 Date Announced: 21 Mar 2014
New Product Introduction: The new family of LED PARfection™ MR16 lamps includes a 12v bi-pin MR16, a 120v GU10 MR16 and a medium base MR16 JDR model. Each allows professional lighting specifiers, facilities managers, energy engineers, maintenance engineers and electrical contractors to achieve instant long-term energy savings -- simply by replacing existing 35 to 50w halogen MR16 and PAR16 lamps with the new PARFECTION LED alternatives.
Using only 6 watts to generate up to 465 lumens -- a remarkable 77.5 lumens per watt (LPW) -- these new lamps are among the most energy-efficient MR16 lamps available to date for lighting professionals in all commercial, institutional or residential interiors where previously higher-watt, shorter-life MR16 or PAR16 halogen lamps would be used. Significant energy savings start accruing the very second it takes to simply insert a Litetronics® LED PARfection™ MR16 lamp, in any new or retrofit installation.
Design: Litetronics® International, a family-owned U.S. company supplying state-of-the-art lamps to America and other markets for more than 43 years.
Product Applications: LED PARfection™ MR16 lamps provide seamless one-for-one replacements for typical higher-watt, shorter-life halogen MR16 and PAR16 lamps. They can be used for new or retrofit installations in commercial, institutional or residential interior track, rail and recessed light fixtures. LED PARfection™ MR16 lamps are ideal for applications requiring high-performance maintenance-free long-life.
These include corporate offices and product showrooms; hotels, resorts, casinos, restaurants, retail stores, clubs, theaters and other entertainment venues; schools, colleges, training centers; apartments, condominiums and multi-unit family residences. LED PARfection™ MR16 lamps are lightweight, low- scale visually pleasing designs and highly directional. They are available in GU 5.3 bi-pin, GU-10 or E26 medium screw-in-bases.
Product Description: LED PARfection™ MR16 lamps have a handsome sophisticated and uniform design. They replicate that of 35w and 50w halogen MR16s and PAR16s, with far superior energy efficiency and up to 10x longer lamp-life thanks to Litetronics' proprietary Thermal-Breeze cooling system.
They consume just six watts; have a rated life of 25,000 hours; are available in a range of color temperatures including 2700K, 3000K and 4000K, with beam-spread choices of 25° Narrow Flood or 40° Flood. Lumen output at six watts ranges from 430, 450 or 465, with concurrent lumens per watt of 71.7, 75 and 77.5 respectively. Center-beam candlepower (CBCP) output ranges from 800 to 865 with Flood beam spreads, or 2325 to 2515 with Narrow Flood beam spreads.
Both 120v models (GU10 base and JDR) provide flicker-free, smooth dimming using most standard incandescent dimmers.
LED PARfection™ MR16 lamps are U.S. ETL listed for electrical safety; meet FCC qualifications for low electrical interference and noise when operating; are RoHS Compliant, Restrictive of Hazardous Substances; are completely lead- and mercury-free. Light is instant-on, full brightness. Units employ the exclusive Litetronics® Thermal-Breeze™ cooling system to wick-away excess lamp heat, and typically exhibit 88% energy savings compared to MR16 halogen lamps. LED PARfection™ MR16 lamps meet ANSI specs. They fit into gimbal-ring and other standard MR16 fixtures.
Contact
Litetronics +1-800-860-3392 or +1-708-389-8000
E-mail:CS@Litetronics.com
Web Site:www.Litetronics.com