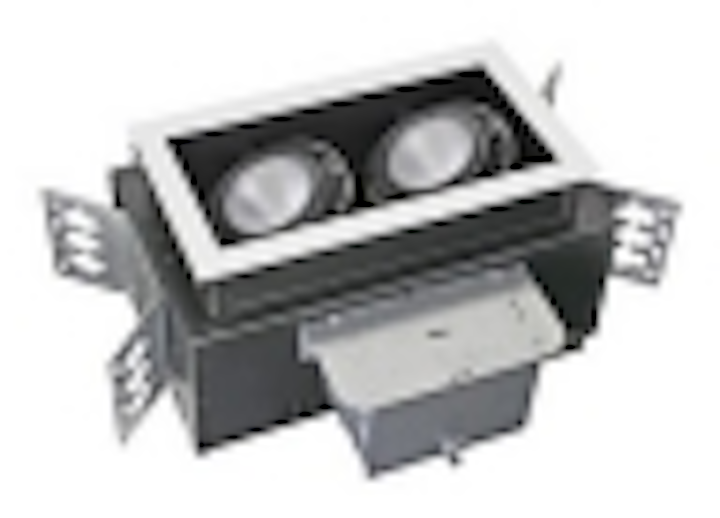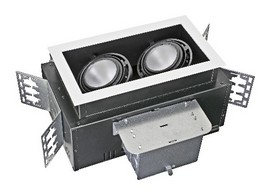 Date Announced: 18 Mar 2014
New Product Introduction: ML1 LED Modulinear -- new family of aimable, dimmable recessed ceiling fixtures with one to four LED modules. Each module incorporates a single 20W high output COB (chip-on-board) LED.
Design: JESCO Lighting Group In-House Product Design and Engineering Team.
Manufacturer: JESCO Lighting Group, founded 1998.
Product Applications: ML1 LED Modulinear -- a contemporary, integral, design-homogenous family of energy-saving recessed ceiling fixtures in four models. Each provides aimable, dimmable pure-white downlighting from sleek low-scale units, yielding LED lighting with design continuity.
ML1 designs are well suited for lighting (or showcasing) of freestanding merchandise floor displays; merchandise wall shelves, clothing racks, mannequins; accent/ambient or spot lighting in galleries; highly upscale merchandise showrooms; galleries and museums; dining and hospitality venues; upscale retail; in building entryways, lobbies, waiting rooms; corridors, and other commercial, institutional or discriminating residential interiors.
Product Description: ML1 LED Modulinear is an unobtrusive, recessed ceiling module with a choice of integral ceiling trims, or trimless. Each ML1 module incorporates a single 20W high-output COB LED, with a choice of narrow, medium or wide beam spread reflectors in 2700K, 3000K and 4000K color temperatures which are all field-chaneable. Modules are universally adjustable to eliminate dark spots or too-sharp cutoffs. They are available in trim or trimless configurations, and are suitable for both dry and damp locations.
Construction & Finishes: ML1 LED Modulinear units are constructed from sturdy but lightweight cold-rolled steel housings, with a separate wiring compartment for assured long-term operating safety and convenience. Housings have a matte black or matte white high-temperature powder-coat painted finish; housing trims have a choice of matte black, matte white or silver finishes. All ML1 LED modules are 7.5625-inches wide by 6.625-inches high. Module lengths are one light, 7.625 inches; two lights, 13.125-; three lights, 20.125-; or four lights, 27.125-.
Each 20W high-output COB LED emits an impressive high CRI 1726 lumens. An advanced heat-sink design provides superior thermal management for 50,000-hour operation at 70% lumen maintenance. ML1's universal 120-277 VAC LED driver delivers a high-power-factor above 0.90, is 0-10V dimmable, and incorporates a self-resetting thermal protector prevents overheating. ML1 LED has a double-gimbal design that allows wide adjustability and the ability to lock modules into position. Butterfly-style mounting brackets provide up to 5-inches vertical adjustment and accommodate EMT conduit. All models are c-CSA-us listed with a 5-year factory warranty.
Contact
JESCO Lighting Group +1-800-527-7796 or +1-718-366-3211
E-mail:sales@jescolighting.com
Web Site:www.jescolighting.com