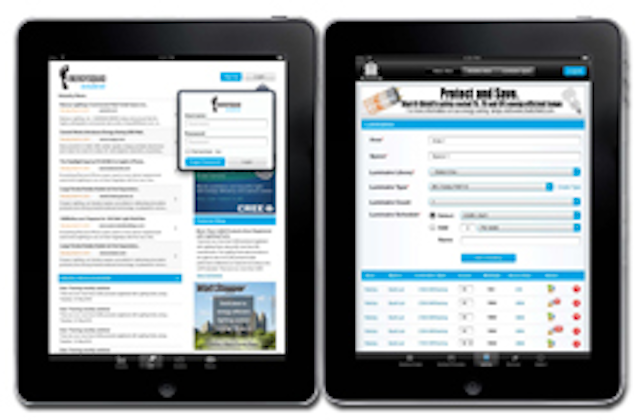 Date Announced: 16 May 2013
Energy Squad, the consumer electronics industry's first full service green tech distributor, introduces the Energy Squad ecoInsight Lighting Proposal Tool, a mobile resource that allows electrical contractors to easily specify, source and create proposals for LED lighting projects. This unique software program cuts the time it takes electrical contractors to create energy efficiency proposals in half.
"The Energy Squad ecoInsight Lighting Proposal Tool is a resource unlike any other," said Jonathan Stovall, president of Energy Squad. "No other tool, resource or app has the functionality to serve as a one-stop, full-support solution for specifying and sourcing the industry's best high performance LED bulbs and fixtures. Now electrical contractors have access to Energy Squad's complete LED product catalog, within the app, at their fingertips, and the capability of producing client proposals with detailed energy saving value propositions—right on the job site."
At the heart of the Energy Squad ecoInsight Lighting Proposal Tool—created in conjunction with ecoInsight Inc.—is an easy-to-use iPad® app that intuitively organizes specific information relative to each specific proposal. With the ability to enter all aspects of the energy saving equation in one program, electrical contractors can now efficiently collect project data in real time.
Once information about the lighting needs for a project have been collected, an electrical contractor can instantly access Energy Squad's entire catalog of LED lighting brands and products to specify the appropriate solutions for the setting. Energy Squad customers also have the added benefit of turning to Energy Squad's team of experts via the Energy Squad Support Hotline for immediate assistance with selecting the right product for every application.
Within a very short time, the electrical contractor can create an in-depth proposal for the client, illustrating the project cost and payback period, as well as a comprehensive analysis of long-term cost savings based on the client's conversion to the specified LED lighting products.
Once the proposal has been accepted, the electrical contractor can again turn to Energy Squad to supply all the products for their project from one source, and rely upon this full-service distributor to assist with technical support, even after the sale.
Energy Squad has created a series of short informative training videos that walk its customers through each step of the ecoInsight proposal generating process. The first live ecoInsight webinar will be held Tuesday, May 21 at 11 a.m. EST.
For more information on becoming an Energy Squad dealer and to get a 30-day free trial of the Energy Squad ecoInsight Lighting Proposal Tool, visit http://www.energysquad.com/become-dealer-partner.
Electrical contractors will also have the opportunity to meet directly with representatives from Energy Squad and learn more about the distributor's unique services and solutions by visiting the Energy Squad booth at NECA 2013, held October 12-15 in Washington, D.C.
About Energy Squad
Headquartered in Bethesda, Maryland, Energy Squad is a full service distributor of environmentally-friendly consumer and custom electronics products. Energy Squad was created with the mission to provide electrical contractors and professional systems integrators with access to products, service and support from the industry's leading providers of LED lighting and green technology. The team at Energy Squad is committed to raising awareness of the benefits of and advancements in green tech. For more information on Energy Squad, visit http://www.energysquad.com.
Contact
Media Contact Scott Moody Email: scott@marketingmatters.net Phone: 954-925-1511
E-mail:scott@marketingmatters.net
Web Site:www.energysquad.com