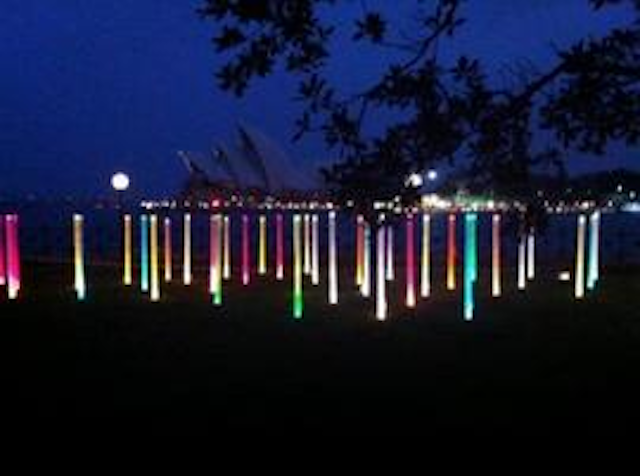 Date Announced: 23 May 2013
Mark Elliott of PointOfView lighting design announces a collaboration with Hassel Studio, on an installation for VIVID Sydney 2013.
Situated at Dawes Point Park under the Sydney Harbour Bridge, Field of Colour is the brainchild of Nick Elias and Clinton Weaver, artists who also practice Architecture at Hassell Studio.
Field of Colour is a striking assemblage of 50 vertical sticks arranged in five clusters, glowing with colour. Fabulously situated across the bay from Sydney Opera House, the 2m high batons form a vibrant intervention across the dark water towards Bennelong Point.
Field of Colour marks PointOfView's first involvement in Vivid Sydney, the spectacular annual festival of light, music and ideas, which transforms the city of Sydney after dark. This year the festival runs from Friday 24 May–10 June and the lineup includes 60 lighting installations, which can be viewed on foot as a 'Light Walk' or via the free Ferry Light Shuttle.
Vivid's hugely popular immersive light installations will be complemented by musical performances at Sydney Opera House and an Ideas Exchange featuring public talks and debates from global creative thinkers.
For POV the Field of Colour collaboration came about recently when Mark Elliott and his team were working with Hassell Studio on a project for the UTS rowing club in Sydney, and Nick Elias asked POV to collaborate on an art installation for Vivid.
"We helped Nick to realize his vision, which is a role that we play sometimes when a clear concept is already in place," said Mark Elliott. "A lighting designer possesses both creative and technical skills and to us both sides have equal importance."
Nicholas Elias and Clinton Weaver are distinguished artists whose work has been shown in Australia and Europe. While Elias's practice focuses on sculpture and painting, Weaver primarily explores the medium of photography. Both share a deep preoccupation with the play of light.
POV used clear, uncolored and unfrosted tubes so that during daylight hours they are virtually invisible, while at night the tubes catch the light just enough to create a ghostly throb of colour.
POV worked hard to achieve a subtly textured quality of light, and turned to Lightforce to resolve the build ability and custom build the tubes. "The work derives from the conversation of scale, form, movement and presence. The colour forms the structure itself being both a frame and a lens," said Elias.
At nighttime the 12v35w halogen lamps, with dichroic colour filters supplied by Rosco, spring to life. A solid opal cap to the tubes reflects the light back down into the verticals and gives the illusion of floating coloured discs.
In the past POV had used polycarbonate tubes lit from top and bottom in a similar way on a project called The Good Class Lounge in Castle Hill, so they trusted that the solution was technically sound.
"We can't wait to see the full 50 tubes installed. With the bridge as a back-drop on one side and the Sydney Opera House on the other it's a photographer's dream!"
Contact
PointOfView +61 2 9818 6355
E-mail:sydney@pov.com.au
Web Site:www.pov.com.au