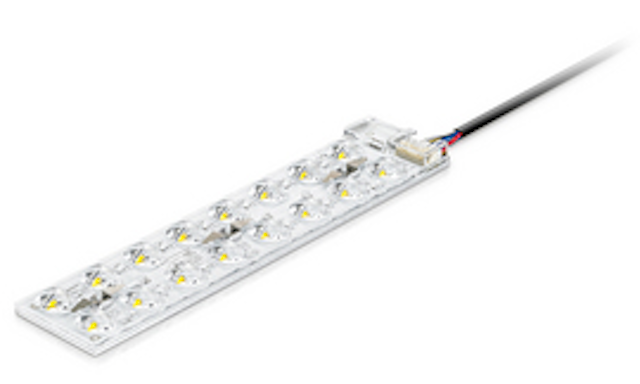 Date Announced: 02 Oct 2013
Eindhoven, the Netherlands – Royal Philips (NYSE: PHG, AEX: PHIA) announced the introduction of the second generation of the FastFlex LED module, a lens-based LED lighting system for outdoor and industrial applications. The proposition consists of two key building blocks – a LED board and an optical lens. The core of the FastFlex LED system proposition is the modular approach to luminaire design. The same lumen package can be created using different combinations of LED module boards and drive currents, allowing luminaire manufacturers to optimize their designs for performance, value, or a balance of the two.
The FastFlex LED module Gen2 has fantastic LED performance, delivering 145 lm/W at 350mA. In addition, FastFlex lenses offer 96% optical efficiency and the lens portfolio has a range of beam patterns, meeting the needs of the majority of outdoor projects, floodlighting and high-bay applications. The range of optics can create a complete portfolio from a single light engine design. Outstanding optical design and module efficiency result in reduced light pollution and up to 30% energy savings compared to conventional systems.
FastFlex is designed to minimize the impact of physical forces. The patented module clip offers a unique solution to managing mechanical and thermal stresses placed on a lens-based light engine during the luminaire manufacturing process and operation in the field. The modules are mechanically ideal for hassle-free manufacturing, and can be pre-assembled for rapid production.
The ideal outdoor LED system is created by combining FastFlex LED module Gen2 with a Philips Xitanium LED Xtreme driver. The FastFlex LED module is now available for ordering. For additional information please visit www.philips.com/fastflex. Samples for testing and design-in purposes can be ordered via the Philips Technology web shop: http://oemwebshop.philips.com
Contact
Astrid Jacobs, OEM Lighting Solutions
E-mail:astrid.jacobs@philips.com
Web Site:www.philips.com/fastflex