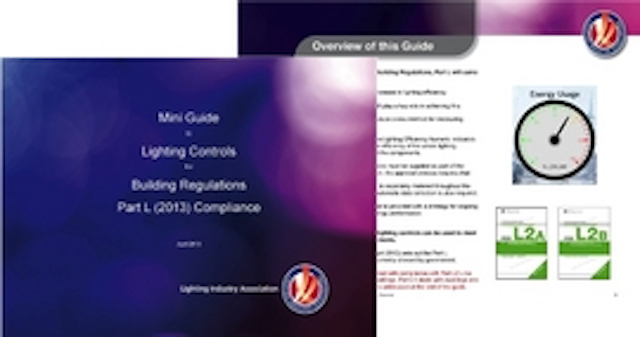 Date Announced: 04 Jun 2013
The Lighting Industry Association (LIA) have developed a new mini guide to show how lighting controls can play a key role in helping to deliver the energy efficiency requirements for lighting required by the Building Regulations.
This mini guide can be downloaded from the LIA website www.thelia.org.uk (under Lighting Guides).
Revisions to the Building Regulation Documents are expected to be issued by the Government during the Spring of 2013, come into force in October 2013 and the mini guide has been written based on the LIA's best understanding of what the revised requirements will be.
We hope you find the mini guide helpful in reducing your energy usage and costs from lighting, by utilising lighting controls.
For more information about lighting controls in general, download the LIA Lighting Controls Guide and find out more about our Lighting Controls Training course, at our website www.thelia.org.uk
The Lighting Industry Association's mission is to strengthen the industry and promote the benefits of good quality lighting by representing all aspects of UK, EU and international legislation and standards at the highest level whilst protecting the interests of both the public and members. The Lighting Industry Association brings together over 175 years of knowledge and experience to represent and strengthen the industry.
Contact
Jo Jackson, the Lighting Industry Association 01-952-290-905
E-mail:joj@thelia.org.uk
Web Site:www.thelia.org.uk