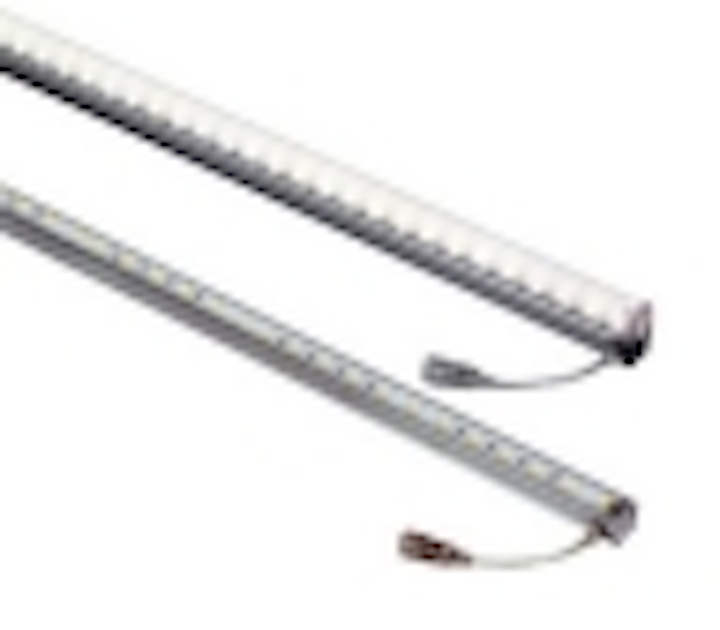 Date Announced: 30 Sep 2013
- New DL-RS Series is dimmable, can be specified for wet, damp and dry locations.
- DL-RS provides lighting and design continuity to JESCO DL-Flex-Up flexible linear LED strips.
New product introduction: DL-RS Series — Rigid LED linear lighting strips provide the commercial lighting industry's highest lumen performance and color rendition, paired with very low energy consumption and exceptional maintenance savings. DL-RS is a superior choice for equally adaptable use in wet, damp or dry locations where multitudinous LED benefits are sought, with white-light and static or RGB color output.
Design: JESCO Lighting Group In-House Product Design and Engineering Team.
Manufacturer: JESCO Lighting Group, founded 1998.
Product applications: DL-RS Series LED rigid linear lighting is ideal for providing inconspicuous low-scale, low-energy ambient, accent, task and display or signage lighting, for wide-ranging interior and exterior commercial, institutional and high-end residential applications. It is an effective, more economical, longer-life replacement for incandescent strip lighting, fluorescent or fiber-optic systems.
DL-RS Series readily fits in coves, soffits, entryways; backlighting of signage, decorative tiles or panels in stores, restaurants, hotels and offices; automotive, RV and marine lighting; bar shelves, wine and liquor displays in restaurants, bars, and under countertops.
Can be ideal for showrooms product displays, retail stores, office workstations; museums, galleries, antique stores; store-fixture shelving and point-of-purchase displays; integrated into furniture, bedroom headboards, decorative trims for homes, offices, hotels; in bookcase, china, glassware and trophy cabinets.
Exceptionally long 50,000-hour operating life with a 3-year factory warranty makes DL-RS Series well-suited for virtually any interior or exterior application where energy savings, high lighting performance, installation flexibility, and little or no routine maintenance, are sought-after benefits.
Product description: DL-RS Series represents the state-of-the-electronic-art in LED light output and flexibility of use. A unique-design LED circuit board contains 18 LED lamps per foot. Available in a variety of white color temperatures ranging from a warm 2700° K to a cool 6000° K, static colors of Red, Green, Blue and Yellow as well as RGB output.
Constant voltage technology for LED Drivers ensures consistent illumination levels, as originally designed. The DL-RS is offered with a transparent protective coating and a slide-on, translucent, opal lens with caps. Patented plug-and-play, wet location connectors on each end provide for easy installation. A wide range of accessories and mounting clips are available for every application.
DL-RS Series may be specified in 12-, 24-, 36- and 48-inch. lengths for a maximum continuous run of 24 feet. Fully dimmable. Clips provided for 0 and 45 mounting.
Construction & finishes: DL–RS Series is constructed from a durable, high-temperature, non-yellowing circuit-board embedded into a sealed, extruded aluminum frame. It is UL, cUL, IP67,wet-, damp-, and dry-location listed.
JESCO Lighting Group is located at 66-25 Traffic Avenue, Glendale, New York 11385.
Contact
JESCO Lighting Group 718-366-3211
E-mail:sales@jescolighting.com
Web Site:www.jescolighting.com