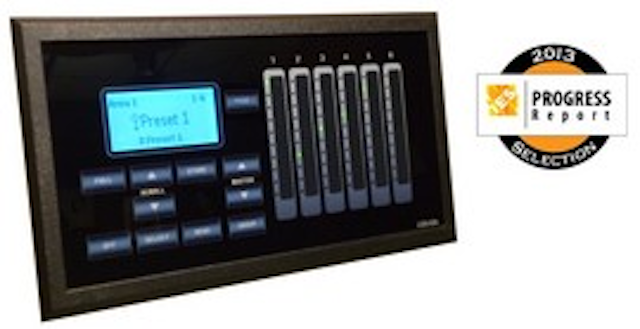 Date Announced: 15 Nov 2013
Lehigh is pleased to announce that the Solitaire Impress Soli 10V room solution control has been recognized by the Illuminating Engineering Society (IES) for inclusion in the 2013 IES Progress Report. The IES Progress Report documents significant worldwide developments and achievements in the lighting industry, including new products, applications, and design tools.
The Soli 10V, 18-preset dimming control, with capacitive touch buttons and sliders, offers a unique combination of control outputs designed specifically for LED lighting applications. The Soli 10V, an industry first, provides six channels of 0-10V dimming including cutoff relays, plus a direct DMX512 output. It has a 2000-watt load capacity, up to 800 watts per channel, with a UL electronic load rating.
The direct DMX output can control remote dimmers, or color LEDs. Up to 60, paged, single or multi-channel zones can be set up across 512 DMX outputs, and includes a unique virtual intensity control of standard RGB fixtures that do not support intensity control in their DMX profile.
The Soli 10V can operate as a standalone control or as part of the Solitaire Impress modular dimming system – with remote stations, multiple masters, communications interfaces, sensor I/O, and Wi-Fi. The unit includes occupancy sensor input, astronomical time-clock, micro USB, and will be available with a Zigbee option.
For larger loads, or 277V requirements, the Soli 10V can drive an SPB-ND remote relay for a cost effective solution. It can also drive any of the Solitaire Impress modular dimming system DMX-based power modules available as standard leading edge, ELV/trailing edge, or dual 0-10V, using low-voltage wiring from the DMX output.
The Soli 10V is ideal for restaurants, themed-retail, conference rooms, houses of worship, convention centers, and theater house light control.
Contact
Demitry Herman, Sales and Estimating
E-mail:demitry@lehighdim.com
Web Site:www.lehighdim.com