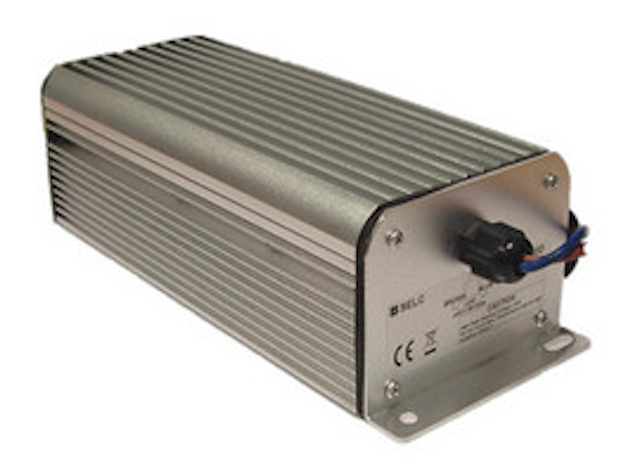 Date Announced: 29 Jan 2013
SELC are delighted to unveil a new 250W Electronic Ballast – The SmartStar® 250W. This ballast efficiently powers all High Pressure Sodium, Metal Halide (including COSMO CDM HQI) and HID Lamps 250 watt lamps, offering an affordable, high quality and intelligent solution. The SmartStar® 250W is a reliable and flexible High Power Electronic Ballast which can be programmed with interactive communications software so as to allow two-way communication with control and monitoring systems incorporating the DALI communications protocol.
Regardless of supply voltage fluctuations the ballast will maintain constant stable power to the lamp. Lamp short circuit protection is built in along with the ability to predict end of lamp life.
If there is no control system fitted the ballast can be programmed to dim or switch on/off at specified times during the night with the use of a standard photocell or where group switching is employed.
The SELC SmartStar® 250W Ballast can be specified with different dimming or on/off regimes per night for energy saving, carbon reduction and safety.
This is a high quality ballast with the reliability and performance you have come to expect from all SELC products.
Find out more about the new SmartStar® 250W Ballast here: http://www.selclighting.com/products-services/ballasts/selc-smartstar-250w-electronic-ballast/
or call us now on +44 (0)845 201 3156.
More about SELC:
From their base in Belmullet, Co Mayo, SELC have been manufacturing and globally distributing Photocells, Electronic Ballasts, Central Monitoring Systems and Solar Time Switches to the road and area lighting industry since the company was founded in 1982. In 1991 SELC were the first Irish SME to achieve ISO 9001 Approval.
In 2012 the company announced the appointment of a new CEO, Paul Carey, who is growing market share internationally through an increased product range and strategic acquisition. The company is rapidly expanding with recent new hires in R & D, sales, marketing and senior management across various global markets.
Contact
SELC Ireland Limited, Industrial Estate, Belmullet, Co Mayo Tel UK: +44 (0) 77 8990 6379 Tel Ire: +353 (0)97 81200 Fax: +353 (0)97 81400
E-mail:uksales@selc.ie
Web Site:www.selclighting.com