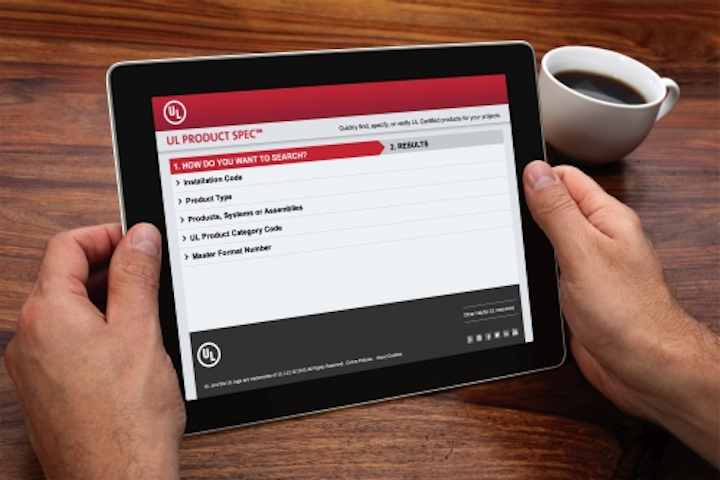 Quickly locate products that meet electrical, fire and building codes or green construction certifications at ul.com/productspec
NORTHBROOK, Ill. – UL (Underwriters Laboratories), a global safety science leader, announced today the launch of a free web-based search tool that will help architects and construction specifiers achieve safe, sustainable, code compliant installations.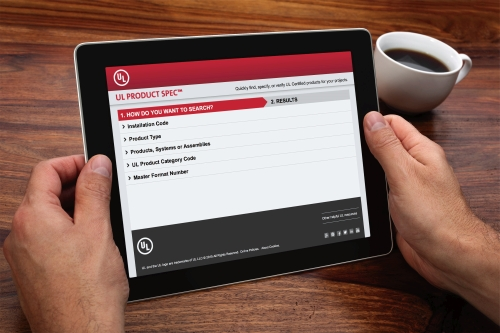 UL Product Spec™ will allow users to search by five different categories: installation code, product type, products, systems or assemblies, CSI MasterFormat number or UL product category code.
"For many years industry professionals relied on printed UL product directories for product certification information," said UL Senior Regulatory Engineer, Tom Lichtenstein. "With UL Product Spec, UL product certification information will be much easier to access."
For example, a specifying architect needing to find a fire-rated assembly to meet specific construction criteria could use UL Product Spec™ by searching "Products, Systems or Assemblies." The search will lead to a comprehensive list of UL Certified fire-rated designs specific to the users criteria. An advanced search function provides options to narrow the search by fire-resistive hourly ratings or by a manufacturer. Links are then provided to detailed fire-rated assembly designs.
Search by "Installation Code" will allow a user to input code section numbers from 32 of the most commonly used North American model codes to access certified products that apply to that code section. The "Product Systems or Assemblies" search also includes equipment and systems covered by the National Electrical Code — including power distribution equipment, photovoltaic and wind power systems and industrial control equipment — as well as items covered by North American building and fire codes such as windstorm-rated products, commercial cooking equipment and fire-protection systems.
These electrical, fire and building UL product categories are organized by intuitive groups. A variety of fire-rated assemblies, systems and designs can be located by using construction parameters, ratings and materials, or by using UL design numbers. The ability to search for certifications that are associated with a particular CSI MasterFormat section number allows architects and construction specifiers to search using familiar CSI numbers.
UL Product Spec™ can be accessed by desktops, tablets and smart phones. It is also a gateway to a wide range of green construction and sustainability certifications. These include code correlations for ASHRAE 189.1, Cal Green, and the International Green Construction Code.
"We think UL Product Spec™ solves critical business problems for the professionals who need real-time UL product certification information," said UL Codes and Advisory Services Manager Alfredo Ramirez. It provides an intuitive, powerful tool for putting the right information housed in our vast databases of certification information into the right hands exactly when they need it."
About UL
UL is a premier global independent safety science company that has championed progress for 120 years. Its more than 10,000 professionals are guided by the UL mission to promote safe working and living environments for all people. UL uses research and standards to continually advance and meet ever-evolving safety needs. We partner with businesses, manufacturers, trade associations and international regulatory authorities to bring solutions to a more complex global supply chain. For more information about our certification, testing, inspection, advisory and education services, visit http://www.UL.com.
Contact:
Tom Lichtenstein, Codes and Advisory Service - UL LLC
+1-847-664-2160