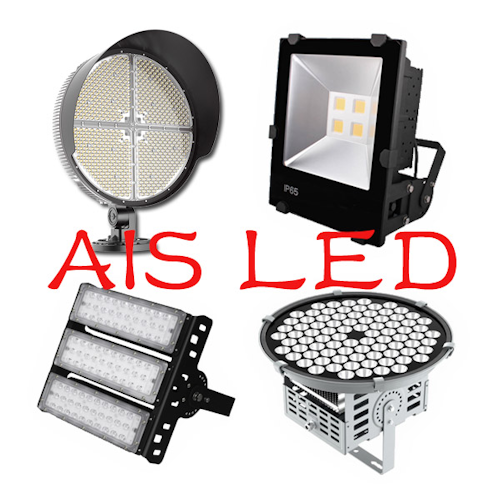 LED Flood Light main purpose is to make your outdoor area brighter with high-intensity light. LED Flood Lights gives you a more high-intensity light to secure and safe your outdoor space. Today AIS LED will share with you how to choose the right LED flood light bulbs.
Advantages of LED Flood Lights:
LED Flood Lights Have Long Lifespan: Maximum LED Flood Lights to have 50,000 hours lifespan.
LED Flood Lights Produce Less Heat: LED Flood Lights have low operating temperature and hence don't generate a lot of heat like fluorescent lights.
LED Flood Lights Energy-Efficient: By making a switch from traditional halogen light to modern LED Flood Lights, at least 88% of energy can be saved, thus saving you from paying extra for extra energy consumption.
LED Flood Light has better CRI: The LED Flood Light comes with a CRI of 80 enabling objects and surfaces to look realistic and unartificial up to the extent of 80% in comparison to an ideal or natural light source.
Instant On: This product does not require any warm-up time or cooling down to stay in operation. Hence, an instant-on solar street lighting effect observed.
Eco-Friendly: LED Flood Lights does not contain any toxic waste products and does not leave any carbon footprint.
LED Lights comes with a Motion Sensor: Maximum Indoor and Outdoor Lights comes with Motion Sensor. That means the sensor LED flood lights turn off and turn on automatically.
LED Flood Lights Have a Dimmable Option: With Dimmable option, you can adjust the brightness of LED Lights according to you.
Low Maintenance: There is an only one-time investment on LED Flood Lights. In fact,all the LED lights need low maitenance as long life span,such as LED tube lights, LED corn lamps and so on.
While choosing the right floodlight rather depends on your needs, there are a few things that you should keep in mind while buying LED floodlights.
Location: Where is the floodlight to be placed? On the building, on the wall, from the ceiling or somewhere else altogether? Deciding on the location of the floodlight will help you move on to the next step in making a choice.
Beam angle: Do you want a focused light or something that covers the entirety of your lawn or any other space? For wider spaces you need an LED floodlight that has a wider beam angle. Usually a beam angle of 120 degrees is perfect for most needs.
How do you want it to work: Apart from the standard on/off switches, modern floodlights now offer a plethora of operating choices. You can choose LED floodlights that switch on when the sun sets and switches on with the break of dawn. Alternatively, you can choose a motion-sensor floodlight that switches on the moment it detects any movement.
Detection angle: If you wish to use motion detected LED floodlights then this is a crucial factor that you must consider. Standard LED sensor-based LED floodlights work only when a person or animal is directly in front of the light. The anti-creep floodlights on the other hand work even when the target is standing on the sides of the light.
Lumens: How strong do you want your lights to be? Enough to help you navigate the space or super bright to keep intruders at bay? The brighter the light requirement, more the lumens required.
About AIS :
AIS LED is a leading LED lighting supplier with innovative green technology. We are specialized in the manufacturing of innovative, next-generation LED lighting solutions such as E27/E40 LED corn bulb, LED street lights, PL G24 LED lights, PL G23 LED bulbs, portable LED work lights, LED Flood lights,R7S LED bulb, LED stadium lights and so on. AIS LED is committed to providing high-quality, sustainable, green lighting solutions to the world LED lights market.
For details of LED flood lights from AIS,please visit: https://www.aisledlight.com/outdoor-led-flood-light-manufacturer/