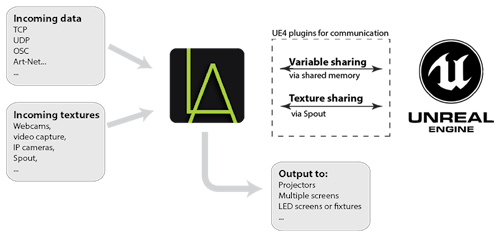 In December 2018 we released Lightact v3.1.1, packed with new pixel mapping and computer vision features. And to give users even more tools, we upgraded our Unreal Engine plugin, so you have even more options when using Lightact with Unreal Engine.
DMX mapping
Fixture placement rendering has been re-built from the ground up and its efficiency increased by an order of magnitude. Now you can easily render tens of thousands of pixels with no significant FPS drop.
Fixture placement with OBJ files
We've upgraded eDMX (Art-Net) fixture import with OBJ files! Now you can import an obj file and filter the objects within by several attributes and place different fixtures based on those filters. This allows you to use one obj file to place different types of fixtures and to exclude certain objects from the placement (props, for example).
On top of that, Lightact can also grab rotations of the objects in the obj file and orient your fixtures accordingly. This enables a truly smooth workflow from your 3D modeling application to Lightact.
Fixture placement with CSV files
Based on a user-request (thanks, Robb!) we've also added a Fixture placement with CSV file! This allows you to create a simple CSV file containing locations, rotations, fixture type and DMX address of all the fixtures and create a fixture placement based on this file.
Computer vision
We've added a number of new computer vision nodes. Besides Optical flow that's been here since a few months ago, now you also have MOG2 background subtraction, Find contours and Find circles node. You can also pass data from Find contours and Find circles node to Unreal Enginefor advanced real-time VFX.
This week we released Lightact v3.1.2!
Computer vision is the backbone of interactive installations and Lightact has always been at its forefront. Now, we've pushed even further into this field and included support for Nerian Stereo Cameras. We've also added the ability to warp and combine several camera feeds into one. That's useful in projects where the area you need to track is just too big for one camera to cover.

But that's not all! We've also included support for Lua scripts in Lightact and, as always, the interface is very modular and flexible.
Check our blog and Download Lightact for FREE. Lightact Free is a fully functional watermarked version that you can actually use.