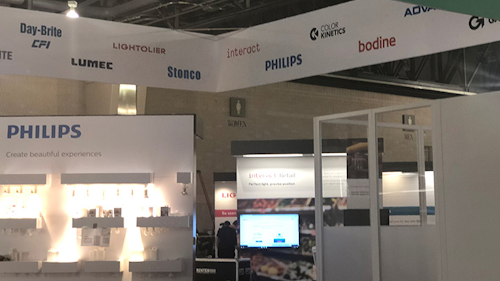 May 21, 2019


Latest products, systems and services unveiled at LIGHTFAIR®International 2019 underscore Signify's leadership in connected lighting and lighting for the Internet of Things (IoT)
Company commitment on track to deliver 80% of product portfolio that is connected or connectable by 2020

Philadelphia, USA – Signify (Euronext: LIGHT), the world leader in lighting, introduced several new innovations that are helping customers navigate the transition to connected lighting systems and beyond. On display at LIGHTFAIR®International 2019 (LFI), Signify's offerings represent market leading innovations across a wide range of applications to support customers anywhere along the connected journey.
Connected lighting systems are transforming how people improve their quality of life at home, work and in their communities. The value connected lighting delivers continues to expand beyond energy, labor and operational savings by improving productivity, safety, and wellbeing from schools and stores to office buildings and cities.
This year's technology and innovation highlights include:
Light Fidelity (LiFi) – an exciting and emerging technology in which enabled LED fixtures combine high-quality light with data connectivity using light waves. This enables customers to send email, securely access their company network, and surf the Internet through their lights.
Interact IoT Platform – a highly secure, scalable cloud-based platform which uses sophisticated data management and processing capabilities to create data-enabled services—unlocking the full potential of connected lighting for smart buildings, smart offices, and smart cities.
The shift to connected lighting is accelerating the pace of change faster than ever before. At Signify, we are transforming these challenges into opportunities in order to help our customers connect and deliver value in new, exciting ways."

Roger Karner,
US President of Signify
Signify is also showcasing the following new product system innovations at LIGHTFAIR in Booth #1401:
For indoor lighting systems:
For outdoor lighting systems:
For architectural design lighting systems:
For OEM lighting systems:
Signify also announced it is extending its YellowDot OEM program to the United States, opening its indoor positioning platform to Hubbell Lighting. The YellowDot OEM program allows manufacturers to test and certify their LED fixtures to work with YellowDot powered indoor positioning systems such as Interact Retail. The system is supported by Visible Light Communication (VLC) and Bluetooth beaconing hardware, location algorithms and cloud services enabling Hubbell's customers with the ability to implement real-time location services for indoor venues, such as retail, hospitality, entertainment, healthcare, transportation and special event environments.

From May 21-23, LIGHTFAIR® attendees can get up close to these innovations and more at Booth #1401.
For further information, please contact: