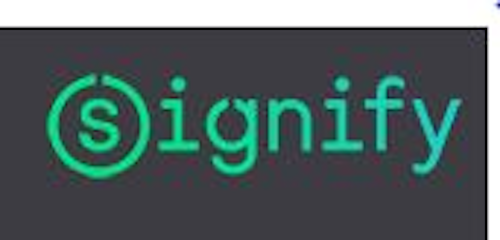 Somerset, New Jersey – Signify (Euronext: LIGHT), the world leader in lighting, has released research, which looks at consumers' attitudes on lighting and their eyesight. It shows just how important our eyesight is to us. Nearly 9 out of ten Americans (87%) say they would rather give up their hearing than their eyesight, and half of people (49%) worry about losing their sight as they get older.
The findings also revealed that our eyesight becomes more important to us as we age. When asked if they'd rather give up their sight or hearing, 19% of 18-24-year olds said they would give up their sight compared to 9% of those aged 55+.
The quality of lighting can impact one's eye comfort. However, less than a quarter (21%) of respondents take that into account when purchasing light bulbs.1
The comfort of our eyes suffers as a result of bad lighting
Many factors can lead to a deterioration in eyesight and eye discomfort. More than one-third of the respondents said they experienced tired or itchy eyes (41%), headaches (38%) or blurry version (34%) due to poor lighting.
The type of lighting we use day to day can have an impact on our quality of life. For instance, controlling the color and intensity of lighting over the course of the day can improve our sleep patterns, which can be critical to our health and well-being. Whereas, artificial light that flickers and strobes can have deleterious effects on the quality of life and lead to eye discomfort, headaches and infrequent epileptic seizures. Choosing the right lighting is very important."

Andrew Stockman,
Professor, Institute of Ophthalmology, University College London (UCL)
The impact of spending significant time under artificial lighting
Problems caused by bad artificial lighting are made worse by using it for longer. Nearly three-quarters of Americans (74%) say they spend eight hours or more a day under artificial light. The World Health Organization predicts that one in two people will be short sighted by 20502 as a result of several factors including lack of time spent outdoors and time in front of screens.
The research also showed that younger people are spending more time under artificial light. Nearly nine in 10 (88%) 18-24-year olds say they are spending eight hours or more under unnatural light sources each day, compared to 63% of those over the age of 55.
Choosing light designed for the comfort of your eyes
As time spent under artificial light increases, it's important to choose the right type of lighting. The survey commissioned by Signify showed that 80% of US consumers believe that good lighting is beneficial for eye health. And this belief increases as people age: from 61% of those aged 18-24 to 88% of those 55+. Additionally, the majority of Americans (58%) agree that good, quality lighting promotes wellbeing at home3.
"Consumers are often unaware of the differences in LED lighting. There is so much choice and a great deal of variance in quality. Lighting used to be a solely functional purchase, but as we spend an increasing amount of time inside and at home, the quality of light has become even more important," explains Rowena Lee, Business Group Leader, LED at Signify. "We developed EyeComfort parameters to guide and support consumers in their search for comfortable light for their home – light that is easy on their eyes."
Signify's scientists have developed a set of parameters that include flicker, strobe, glare and dimming effects that will allow consumers to make informed choices when it comes to LED lighting. The majority of Philips LED lights comply with these specific quality criteria. Currently, there is no common global lighting standard for lighting comfort, which makes this the first of its kind within the lighting industry.
Visit www.philips.com/eyecomfort to learn more.
About the research
All figures, unless otherwise stated, are from YouGov. Total sample size was 1216 adults in the United States. Fieldwork was undertaken between May 7-8, 2019. The survey was carried out online.
About EyeComfort
Poor quality lighting could cause eye discomfort. This can be due to factors such as strobing, flickering or poor color rendering. Signify's scientists have worked to develop industry-leading LED lighting. They set strict "comfort criteria". This ensures the majority of Philips LED lights meet lighting standards that have been tested by us to be comfortable for the eyes. The criteria will also help consumers make choices between other brands of LED lighting. The Philips EyeComfort trademark can be found on our product packaging to help consumers identify quality lighting that's easy on the eyes.
1Research undertaken by ResearchNow on behalf of Signify in July 2017
2The impact of myopia and high myopia, March 2015 – World Health Organization
3Research undertaken by ResearchNow on behalf of Signify in July 2017