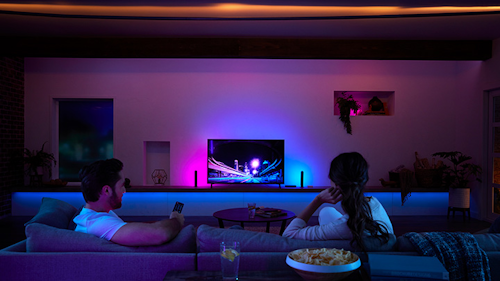 Somerset, New Jersey – It's time to elevate your home entertainment with the Philips Hue Play HDMI Sync Box. This new innovation from Signify (Euronext: LIGHT), the world leader in lighting, provides a simple way to sync your Philips Hue lights with your TV, enabling you to create immersive media experiences in your living room. Place the sync box between any HDMI device, whether that's a streaming device, cable set-top box, video game console, or Blu-Ray or DVD player, and your TV, to take your movies, TV shows, video games and music to the next level with surround lighting.
Home theater in a flash
Connect up to four HDMI devices to the Philips Hue Play HDMI Sync Box and watch your content come to life with light. You can sync up to 10 color-capable Philips Hue lights with whatever content is being played on your HDMI devices, and enjoy a vivid and captivating experience throughout your room. The Philips Hue Play HDMI Sync Box automatically switches between the four different HDMI devices depending on which one is being used, so you can go from video game console to streaming media player in a matter of moments. No delays or lag!
People love to escape the pressures of everyday life by getting lost in their entertainment. We are proud to present the new Philips Hue Play HDMI Sync Box and give them a simple way to make that possible. Philips Hue users can now easily connect the color-capable lights in their room with their home entertainment systems, taking their movie- and TV-watching, listening and gaming experience to a completely new level."
Jasper Vervoort
Business Leader, Home Systems & Luminaires, Philips Hue at Signify
Versatility at your fingertips
The Philips Hue Play HDMI Sync Box has its own dedicated Philips Hue Sync Mobile app, so you can quickly control and personalize the light experience. You can fine-tune brightness, as well as the speed and intensity of the light effects. You can automate your device even more by configuring the default settings, making it even easier to use on an everyday basis with your entertainment system. In addition to enhancing your home entertainment, you can use your color-capable Philips Hue to enjoy all of the functionality the Hue ecosystem offers, including away from home control and ambiance creation.

The Philips Hue Play HDMI Sync Box is available for $229.99. Pre-order today at meethue.com and BestBuy.com. The sync box will ship starting October 15 and be available for purchase at Best Buy stores nationwide starting October 20.

For more information about the Philips Hue Play HDMI Sync Box, visit meethue.com.