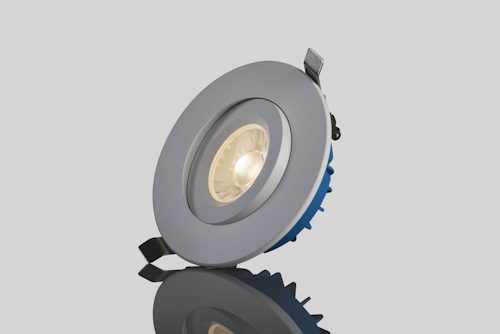 Richmond Hill, ON - August 28th, 2018 - Liteline Corporation, Canada's largest lighting manufacturer, is pleased to announce that its 4" LUNA Series fixture has been recognized by the Illuminating Engineering Society (IES) in its annual Progress Report for 2018. Each year, the technical advancements of submissions are recognized for their overall performance above industry standards.
The LUNA Series is the industry's first wet-location, gimbal fixture that sits proudly between a premium integrated LED luminaire and a budget retrofit. Offering the housing, trim, and lamp look without the overhead and heat, select LUNA Series fixtures offer round, square, tilting and fixed options as well as a 360-degree rotation to best suit your building's or project's needs.
The LUNA Series won't leave you short on options when it comes to your next project. Boasting a 90+CRI rating, and up to 1060 lumens, fixtures within the 4" lineup are available in five different color options as well as a dim-to-warm option, so you can easily take the look and feel of your space to a whole new level. As if its impressive feature set wasn't enough, you can feel confident with an included lifetime warranty.
Making an industry leading product even better, there are innovative updates coming to the entire LUNA Series lineup in the near term, so be sure to stay tuned to our social media channels for updates.
To learn more about our Luna Series, please click here
For more information on the 2018 IES Progress Report, please visit http://www.ies.org
Media inquiries: Robert Cacciola, Communications Coordinator, 1 (866) 730-7704 ext.122 or rcacciola@liteline.com
About Liteline
Liteline Corporation is Canada's largest lighting manufacturer and has been in operation since 1979. Headquartered in a 160,000 sq-ft facility in Richmond Hill, Ontario, Liteline specializes in LED lighting for residential and commercial applications across North America. The company's growth continues on three core principles: innovation, installation efficiency, and customer satisfaction. These principles are distinctly present with their flagship product series including SlimLED, ALR, Luna, Sigma and Forum – all designed to support the ever-changing demands of lighting specifiers, architects, interior designers and our distributor partners's project designs.