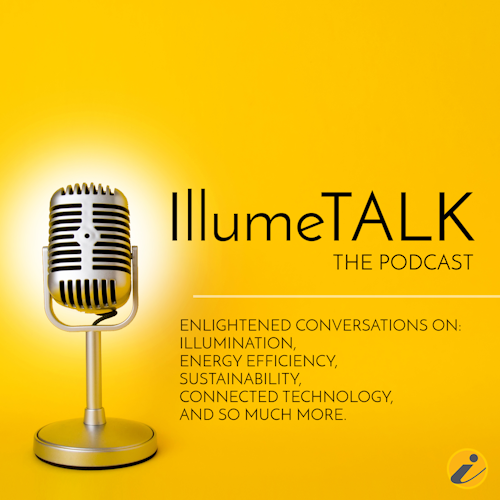 Illumetek Corporation ("Illumetek"), an industry-leading provider of energy efficient lighting, electrical and controls solutions, has partnered with Front Porch Media ("Front Porch") on a new branded podcast series entitled IllumeTALK.
"We're so excited to launch IllumeTALK with the team at Front Porch. This new podcast series is a unique way for us to connect with both partners and customers on a more personal level," says Erin Plivelich, President at Illumetek.
"As our industry continues to move through a rapidly evolving landscape, IllumeTALK affords us the opportunity to meet people where they are. We're tying into the best thinkers and innovators, asking the right questions, and cultivating enlightened conversations on illumination, energy efficiency, sustainability, connected technology, and so much more."
The series provides a new-level of thought leadership in the lighting business. IllumeTALK hosts explore topics that challenge industry standards, break down the status quo, and highlight how technology is completely changing the lighting marketplace.
"The conversation has shifted dramatically, and this new chapter is driven by today's rapid advancement of innovation and technology. It's no longer just about light bulbs and rebates. It's about connected, efficient systems and the intelligent, real-time data and analytics they can produce," says Aaron Woloszyn, the podcast's main host.
"IllumeTALK gives us the opportunity to both educate and entertain while covering these complex changes. We want this podcast to inspire discussion."
Today's business-to-business brands have found podcasting a dynamic way to connect with customers and redefine their value proposition, according to Front Porch Chief Creative Officer, David Allen Moss. "We're excited to be working with Illumetek on taking their brand message in a unique direction with this podcast," says Moss.
Listen to the first episode of IllumeTALK here: https://www.illumetek.com/illumetalk-common-obstacles-commercial-lighting-program-management/
About Illumetek
http://www.illumetek.com
Illumetek is an industry leader in lighting and technology upgrades with a unique commitment to logistical expertise for enterprise level program management. From LED upgrades and simple controls to energy management and smart building technology, Illumetek has maintained an unparalleled reputation in nationwide coverage and managed services. Additional specialties include: Reactive and Preventative Maintenance, Electrical Rollouts and Installations, Lighting and HVAC Controls, IoT initiatives, and Labor Only Management.
Press Contacts
Kate Reynolds
Illumetek
Marketing Manager
800-644-2566
kreynolds@illumetek.com