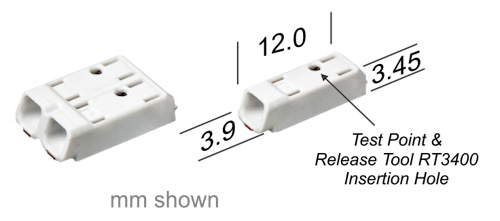 EBY Electro Inc., manufacturers of connectors and terminal blocks, located in Plainview, NY, present their new SMD EB3400 series of LED connectors.
With their newly developed high-grade EB3400 series connectors, EBY Electro has the lowest profile SMD connector type on the market for the connection of LED modules.
Essential Features and Advantages at a Glance —
• 1 and 2-pole connectors, pin spacing 4mm
• Extremely low profile (3.45mm) minimizes shadowing effect
• Connection of flexible and solid connectors up to 18 AWG
• Optimal efficiency for high speed assembly
• Spring clam connection – excellent spring retention even in high ambient temperatures
• High-grade PPA housing avoids discoloring during reflow soldering
• 600 V (1 pole), 250V (2 pole)
• Current rating 9 Amps
• Tape-on-Reel packed on 13" reels
• Release tool for easy and safe removal of conductors
Functions and Applications —
The new EB3400 series connector is used connecting wires for LED modules or for making board to board connections of LED modules. With its flat design, it is primarily suited for LED applications. Due to its extremely low profile, it minimizes possible shadowing effect created by LEDs.
The EB3400 incorporates the tried and tested, screwless spring clamp technology which is well established in the market. The connector adapts contact pressure to wire size – contact pressure rises as the wire size increases. This way currents up to 9 amps can be safely transferred. Additionally, quick installation of single, solid wire conductors are made by simply pushing them in without the need for a tool. Wire removal and termination of stranded wire is accomplished with the use of the easy-to-use RT3400 release tool. The same tool is used to release non-pre-treated flexible fine-strand wires. Multiple operations of termination or release have no impact of the performance of the spring over time.
A funnel-shaped insert in the wire entry area guarantees quick and easy wire termination. The large flat surface on the top of the connector assures an easy pick and place operation with high speed, SMT assembly equipment.
EB3400 connectors are available in 1 or 2-pole versions with a pin spacing of 4mm. They have a voltage rating of 250V for luminaires (IEC/EN 60598) resp. max. 320V with overvoltage category II / degree of soiling (IEC/EN 60664-1). Moldings are made from a glass-fiber, reinforced PPA and are suitable for reflow assembly lines.
Technical Data —
Connection: Spring Clamp
Wire Size: 18-24 AWG
Mounting Method: SMD
Housing Material: PPA-GF, White
Flammability Rating to UL 94: V-0
Continuous Working Temp: 150 °C, short-time 200 °C
Contacts: Spring Steel, Copper
Voltage Rating: 1 Pole: 600V to EN 60598-1
2 Pole: 250V to EN 60598-1
Current Rating: 9 Amps
Operating Temperature Range: -60 °C - 105 °C
Stripping Length: 8 - 9 mm
Protection Class: IP 00
Packaging: Tape-on-Reel with 13" Reel
Accessories: Release Tool
Tape-On-Reel —
EB3400 connectors are supplied on Tape-on-Reel reel. The single pole version has 2000 pcs per reel while the two-pole version as 1500 pcs per reel.
More information about the EB3400 and other EBY LED connectors @ www.ebyledconnectors.com/LED-Overview