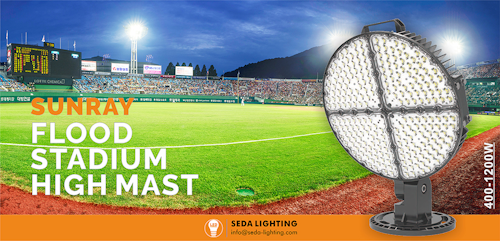 SUNRAY series LED high mast lights have exquisite design, smooth surface line with robust die-casted housing and heavy duty anti-corrosive surface treatment for sparking the beauty and improving lighting conditions of applied area. Originated by the demand for large field lighting applications, SUNRAY series high mast lights can be extended to 1200W and fixture efficacy reaches to 130LPW, better brilliance, less energy consumption.
High quality solid light source:

PHILIPS and SAMSUNG highest efficacy LEDs with latest package technologies and enhanced with high efficient Meanwell power supplying solutions, SUNRAY series LED high mast lights have 110-130lm/W output per fixture,
Optimized thermal management solution:

High pure thermal conductive aluminum heat sink with finest thermal conductive and dissipating structure to ensure lowest thermal resistance, plus thermal conductive coating to shorten thermal dissipating path and guarantee the thermal dissipation faster and efficiently.
Professional optic design: SUNRAY series is designed for large-scale field using and optimized in optic designs for different field applications, the optic designs is ranged from 10° to 60° to cover extremely-narrow and wide beam angle to maximize the lumens on where it should be lit up and evenness and minimize lighting pollutions to nature and human life.
Visit: 1200W Sunray Series LED Stadium lights released by SEDA Lighting