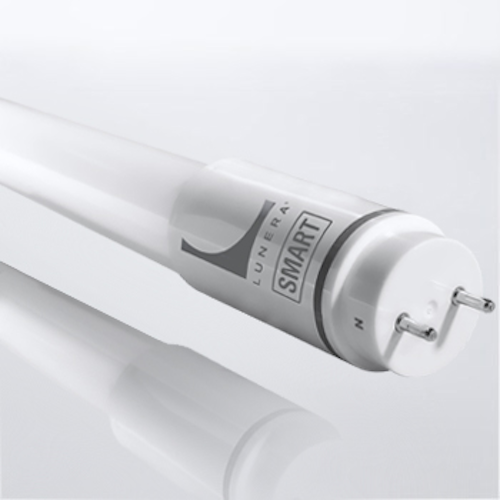 Lunera, an IoT infrastructure company, today announced the company's connected Smart T8 Lamp with its cloud-based Ambient Compute Platform has been listed on the DesignLights Consortium™ (DLC) Networked Lighting Controls (NLC) Qualified Products List. The Lunera solution is the only qualified NLC product with networked lighting controls integrated within the lamp, making it ideal for commercial, institutional and industrial, building retrofit projects. The smart lamp is also separately listed as a DLC qualified device.
The integration of lighting controls, microprocessors, sensors and radios within a TLED lamp form factor empowers Lunera to transform a building's existing lighting systems into an open, future-proofed IoT infrastructure while simultaneously upgrading the lighting to energy-saving LED. Retrofits can be cost justified on energy savings and enable low-risk deployments with minimal disruption.
"We're proud to be the only product recognized by the DLC with networked lighting controls integrated directly into the LED lamp," said Vincent Rerolle, senior vice president, Lunera. "Our approach not only significantly reduces deployment friction, in particular in retrofit or upgrade scenarios, but also provides existing buildings with a future-proofed infrastructure to add new differentiated services, such as real-time location services and IoT networking."
The DLC is dedicated to accelerating the adoption of high-performing, energy efficient commercial lighting solutions. Through specification and qualification process, DLC qualification has become the hallmark of utility company rebate programs. New incentives and rebates, which are increasingly being offered to NLC-certified systems, can significantly reduce the cost of upgrading the lighting systems. Utility companies are pursuing NLC qualified solutions due to additional energy savings and access to verified, real-time energy usage data.
The DLC NLC qualification is important to the energy industry because it further reduces unnecessary energy consumption, enables utility companies and power consumers to more directly manage peak power demands and provides energy producers with verifiable energy usage data to justify the investment they make through program rebates.
Lunera's Smart T8 delivers energy savings through its integration of LED technology, embedded microprocessors and an ambient light sensor; external occupancy sensors; and commissioning/energy/lighting management software. Together these create an open and cloud-connected solution, enabling Lunera and third-party applications to use the infrastructure beyond networked lighting controls for energy management optimization including occupancy-based HVAC control and peak power usage management.
Adding value beyond energy management optimization, the platform is also a sophisticated IoT-edge technology infrastructure which enables context-aware Real-Time Location-Based Services (RTLS) and IoT gateways. Using a combination of integrated Bluetooth and Wi-Fi radios and microprocessors, the Smart T8 and Ambient Compute Platform enables local and cloud connectivity for communication, control, and data accumulation of IoT devices within the building. The first non-energy related applications that may use the Lunera infrastructure include solutions for asset tracking, wayfinding and proximity marketing.
For more information about Lunera's Ambient Computing vision, visit https://www.lunera.com/ambient-computing. Detailed information about the DLC NLC listed Smart T8 device, software, and applications ecosystem can be found at https://www.lunera.com/products/lunera-t8-smart-lamp.
About Lunera, Inc.
Lunera is an IoT infrastructure company that provides an ambient compute platform to connect billions of devices to the cloud. Lunera's breakthrough approach enables context-aware, fully automated applications to run in and between the cloud, the edge and the device itself. A robust set of these applications such as indoor wayfinding, asset tracking, Wi-Fi monitoring, proximity messaging and space utilization are available in the Lunera Ambient Compute Marketplace. The company's unique invention embeds sophisticated IoT-edge technology, networking, compute, sensors and controls capabilities, directly into each LED lamp. Light bulbs are well positioned for this paradigm shift due to the low cost of deployment through energy savings, ubiquity, density and always-on power. Lunera is redefining traditional LED lighting to catalyze change and realize the promise of ambient computing.
###
Media Contact:
Lunera Marketing
Lunera, Inc.
marketing@lunera.com
408-242-4680