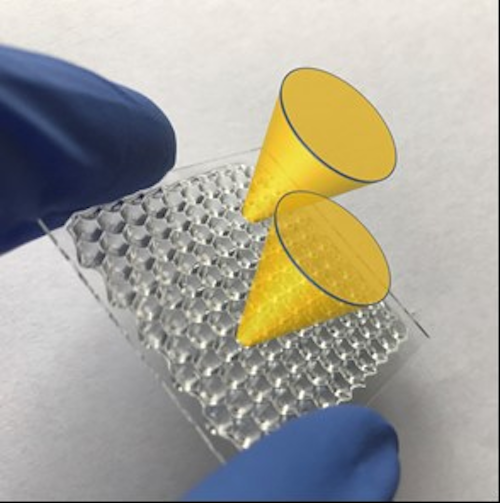 Today, Optovate Ltd. (Oxfordshire, UK), the microLED optical specialists, announce that they have realised a microLED technology that enables multiple microLEDs transferred in parallel from a wafer to a substrate to be aligned in one step with a precision optical array. The technology is the subject of a portfolio of 20 granted and pending patents dating from 2008.
Broad application areas include mini-LED backlights for LCD, OLED displays, head-mounted Augmented Reality (AR), Virtual Reality (VR) optics, automotive Head-Up-Display (HUD), and ultimately direct microLED display for mobile devices like smartphones and tablets where they can provide high brightness, privacy, and power saving operation.
Optovate have a paper accepted in the upcoming SID Display Week 2018 Symposium where we will talk for the first time about our work in this area.
Optovate has made two significant breakthroughs in its approach to microLEDs. First it has developed a unique microLED transfer technique to enable extraction of microLEDs from wafers to backplanes for display and lighting applications. This approach is scalable to very large substrates providing a cost-effective route for microLED applications.
Second it has also developed a way to produce and integrate a precision optical array that combines refraction and reflection of light from each of the microLEDs, providing controllable illumination and ultra-thin low thickness – significant advantages for many display, LCD backlight and solid-state lighting applications. These two innovations in microLED transfer and micro-optic light control can be combined or used stand-alone with other approaches.
Paul May, Commercial Director at Optovate Ltd. explained: "With the market interest in microLEDs rapidly gaining momentum, Optovate have decided that the best way to exploit its technology is to partner with suitable organizations that can provide the development resources needed for the rapid launch of volume products. Interested parties are invited to contact us".
Jonathan Harrold, co-founder of Optovate commented "For a long time our microLED approach was counter trend - that's all changed now. Our patented technology has the potential to disrupt both the display and LED lighting value chains. We were really the first to understand why and how the optics of microLED arrays is key to both displays and lighting".
About Optovate
Founded in 2008 by a team with a proven track record of delivering technologies that have been commercialised in consumer products, Optovate is based near Oxford in the UK. The founders are named inventors on more than 100 patents assigned to companies including Sharp, AUO, Ocuity and RealD. Please see our website for further information.