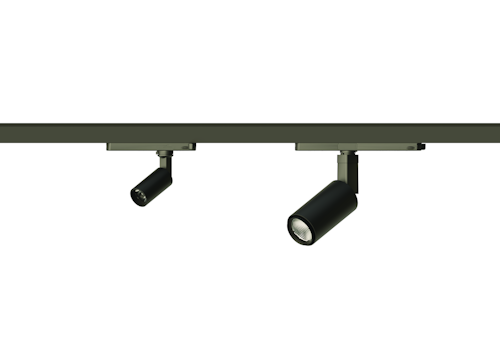 The MotoZERO Compassois a compact and versatile motorized architectural spotlight ideal for applications in retail, museums, hospitality, lobbies and residential applications. The compact fixture measures at its smallest diameter at 1.57" to provide a clean simple look with a powerful output in a choice of 2700K, 3000K and 4000K with a CRI of 90,95, and 98.
Select from variety of chip sets from Citizens, Xicato, and SORAA in a choice of narrow, medium and wide beam angle optics in a choice of wattages from 6W up to 20W. The motorized track mounted spotlight is available with a three circuit universal track adapter and constructed with a cast-aluminum mounting arm and compact light head that is available in two sizes: Zero40 - 1.57" diameter and Zero60 - 2.59" diameter.
The compact track mounted spotlight is designed to remotely or manually adjust to tilt vertically +/- 90° in two directions and rotate horizontally +/- 160°.The movements of the fixture, as well the intensity and the white color tuning of the light and program scene changes are controlled via CASAMBI™ Bluetooth app. The series will mount on universal 3 circuit tracks or with the STUCCHI ONETRACK® system.Field interchangeable optical accessories are available to create additional lighting effects and optimize visual comfort in those more complex applications.
The MotoZERO Compassoprovides a versatile extension to the popular MotoZERO Familyof motorized architectural track lights. The small and versatile track fixture provides an ideal solution for dynamic enviroments and many architectural spaces where lighting needs to be changed frequently or is inaccessible without special scaffolding or lifts.
Forma Lighting's MOTOLUX Seriesincludes over 12 product families, including a full line of recessed, track, pendant and surface mounting installations, each in a variety of sizes and colors. The series was created for environments that require frequent changes in the field. This ability to control the fixtures remotely gives end users an insurmountable level of control and flexibility that translates into time, labor and overall cost savings. The MOTOLUXSeries provides the ideal solution to meet the demanding requirements in retail settings, auto dealerships, hotels, restaurants, casinos, museums and more.
For a complete listing of products available in the U.S., visit www.formalighting.us.
MotoZERO Compasso:
MotoZERO 40 Compasso

1.57" dia. X 2.9"W X 5.98" H
0.5 lbs.
3000K, 4000K
Dim to Warm
6W Citizens (90CRI / 615lm – 643lm))
6.7W SORAA (95CRI / 430lm – 450lm )

MotoZERO 66 Compasso

2.59" dia. X 5.11"W X 9.17" H
1.5 lbs.
2700K, 3000K, 4000K
Dim to Warm
12W -22W Citizens (90CRI / 1357lm – 1414lm)
10W SORAA (95CRI / 500lm – 525lm )
17.1W / 20W XICATO (90/95/98CRI / 1770lm – 2000lm )
# # #
About FORMA LIGHTING
Established in 1967, Forma Lighting is a global manufacturer of Italian designed architectural lighting systems and solutions, serving both the interior and exterior specifications markets. Headquartered in Milan and Hong Kong, with offices in China, UK and USA, Forma Lighting offers clients an accessible, competitive range of standard catalogue products carrying CE, CCC and UL certifications.