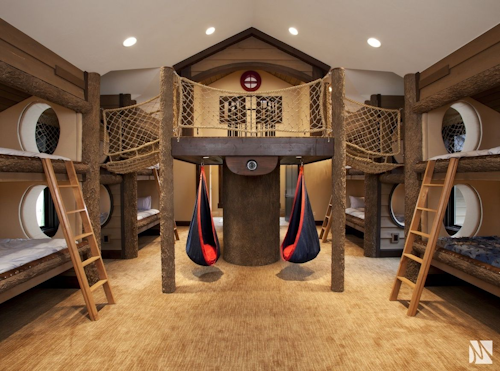 LED for Kids Room is an article which goal is to help you find the perfect lighting for the room of your mini-me. If there is a room with a multiple and wide range of uses that could be the kid's room. First of all, its highly probably that you will change the decoration of this room every once in a while as your kids keep growing up. The lighting design can help a lot in this matter. However, having a creative, versatile lighting design doesn't mean to spend tons of money. You can make it by yourself with these super simple, affordable high-quality products we want to share with you.
Classical LED for kids room
The first option we want to bring to the table will be the dimmable ceiling lights. First of all, these products are very classic, simple, very resistant and highly-efficient. The most important quality is that you can adjust the intensity of the lighting anytime you need. This option is very important, especially by the end of the day when is time to sleep and you are going to read a story to your kids and you want the light to be subtle. On top of that, these fixtures are available in Daylight White LED color perfect to recreate beautiful, natural daylight. So forget about dark, sad rooms if you are not having a nice window. You can get that beautiful daylight with these products. And last but not least, all of these products have all the benefits of LED technology.
This series is available in square and round shape. It's very resistant and has 5 years of limited warranty. On top of that, it has a Power Factor (PF) higher than 90. As a result, you will be saving a lot of energy and money with this fixture. Take a look at all the details right here.
If you have a minimalistic interior design in your house, then this is the perfect option for the kid's room. These lights will appear as if embedded into your ceiling walls with no disruption. The slim ceiling light is very affordable, yet this sleek and high-end light is the perfect option for a smart, eco-friendly and modern lighting solution.

Creative LED for kids room
Getting creative with the decoration of your kid's room is a must. With this in mind, we have brought special RGB solutions. Let's take a look at them:
This product will allow you to have different tones of green, blue, red and more colors. On top of that, you get to decide if you want any special effect, like flash lighting, smooth lighting and much more. You can get a super cool kids room starting at only $12. Click here and find all the details of this cool, creative lighting solution.
Another great product for creative lighting in a kids room would be for sure the strip lights. This cool fixture is available in a wide range of LED colors. Additionally, it has an adhesive backing. As a result, the installation process is very simple. This lighting solution will easily last you 50,000+ hours on average. Additionally, this product has a limited warranty of 1 year. This is the perfect option if you want to have beautiful lighting design, save energy and money while you take care of the environment.
Contemporary and modern LED for kids room
If you prefer more of a modern lighting design then you should go with the LED box series. This is an amazing option for indoor lighting design. First of all, the light is encased in a metal box. Second of all, it has the ability to move 360 degrees and at a 45-degree angle. And third of all, you can get up to 3 spotlights per box. As a result, you lighting design will be free of limitations because this fixture can fully illuminate any interior space with bright lighting. On top of that, the boxed design is a total plus for your decoration.
Another contemporary lighting solution will be the track lights. In this category, we will recommend for your kid's room either the Mini LED Track Light or the Remote Controlled Black LED Track Light. The first option represents a classical track lighting fixture and the second option can be adjusted by remote control. You can choose from warm white to cool white anytime you want. And dim the intensity of light for your kid's room anytime you need.